Ok. If you want to meet Sarah Jessica Parker, stop by Macy's at noon. She'll be there promoting her new Lovely fragrance — and talking to those starry-eyed enough to spend over $125 on a gift set. 12:00 p.m., first floor cosmetics, Macy's, 700 On The Mall, Minneapolis; 612-375-3199.
Good, now let's get to the good stuff…
MUSIC
The Books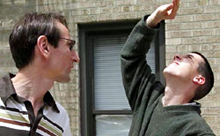 "Using samples from obscure movies, as well as their own singing, mixing, and instrumentation, Paul de Jong and Nick Zammuto construct melodic sound collages and electronic songs so catchy as to be genre defying. On the Massachusetts duo's 2003 release, The Lemon of Pink, for example, the title track alone contains seamless movements between folk song, art singing, and acoustic picking. In 'Be Good To Them Always,' from their latest, Lost and Safe, a squall of reverb and electric guitar is paired with the intoned refrain: 'You know, I simply cannot understand people.' However, the Books' technique and repertoire, while rock solid, don't always translate to the stage. And so their live concerts are a whole other beast — sometimes inconsistent, but worth checking out."
8 and 10:30 p.m., McGuire Theater, Walker Art Center, 1750 Hennepin Ave., Minneapolis; 612-375-7600; $16 ($13 members).
Afro-Cuban Jazz Legend in Our Backyard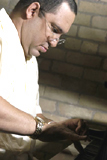 There's actually quite a lot of decent music tonight for all musical tastes, but for a guaranteed great jazz performance, plan on spending the evening at the Dakota. Start the evening off with former ¡Cubanismo! pianist and bandleader Nachito Herrera. I simply cannot get over how lucky we are to have this Afro-Cuban jazz legend as a neighbor. And I can't get enough of him. See him every chance you get, folks. And this evening, you can stay for the late-night show as well — a tribute to trumpet great and the elite of ennui vocalists, Chet Baker.
8 p.m., The Dakota Jazz Club and Restaurant, 1010 Nicollet Ave S., Minneapolis; 612-332-1010; $15.
SPORTS AND PERFORMANCE
Leave Saturday for the Girls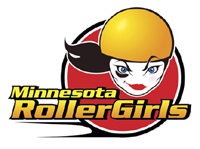 Saturday night brings to an end the Minnesota RollerGirls' third season. Go cheer on your team — or all of them — at the Season Championships. The winner of this bout will take home the first prize and the Golden Skate Award. In celebration of the season closer, there's a lot going on before, during, and after the bout, so you might as well make it a full evening fare. Start out with a fan-appreciation barbecue in Rice Park — right behind the Roy. You could win a Minnesota RollerGirls polycarbonate water bottle or — if that doesn't turn you on for whatever odd reason — a brand new scooter. Then enjoy two back-to-back periods as the four Minnesota RollerGirls home teams battle it out. And it doesn't end there. Top off the night with an after-party at Station 4.
Saturday from 4-7 p.m., BBQ, Rice Park, St. Paul. 7:30 p.m., Roy Wilkins Auditorium, RiverCentre, 175 W. Kellogg Blvd., St. Paul; 651-265-4800; $12-$14. After hour, Station 4, 201 E 4th St., Saint Paul; 651-298-0173.
DINING
Put Your Money Where Your Mouth Is — Literally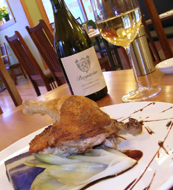 Top the weekend off with a palate pleaser. Join Mike Phillips of The Craftsman Restaurant for a special chefs dinner. Phillips has invited six Slow Food Minnesota chefs (Steven Brown, Ken Goff, Scott Pampuch, Alex Roberts, Lenny Russo, and Tanya Siebenaler) to create a seven-course meal with seasonal, local, sustainably produced ingredients. Each chef will be responsible for one course, and each course will be served with the appropriate wine. Call 612-722-0175 to see if you can still reserve a spot.
Sunday at 5:30 p.m., The Craftsman Restaurant, 4300 E Lake St., Minneapolis; 612-722-0175; $130 ($115 Slow Food members).
Have a great weekend!