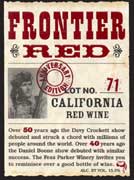 Don't get me wrong. I'm as caught up in the romantic rituals of wine drinking as anyone: the instruments, shining and nearly surgical; the bottle long stored at a tilt; the small effort required to remove the cork; the serious sniff, the careful pour, the sip. But there are times I'm just not in the mood for the whole production. It seems there's always a bottle of corked wine sitting on my countertop, waiting to be taken back. And I'm tired of my corkscrews being confiscated at the airport.
The solution to all this: screwcap closure. Good for the industry, which loses a substantial amount of cash on the roughly 7 percent of wine bottles (according to a recent Wine Spectator study) containing TCA — a bacteria whose scientific name is 2,4,6-trichloroanisole — that are returned after purchase. Cork taint causes a wine to smell musty, like wet dog, and taste both rancid and "flat." The incidence of corkedness may be on the rise because some pollutants catalyze TCA. Also, in my opinion, we're getting more discriminating about wine, rejecting the ever-so-slightly tainted bottles our parents might have drunk.
We're also an active generation, drinking wine wherever we go. My husband and I, for instance, are bikers who take long road trips by motorcycle, stopping along the way in inexpensive roadside motels, buying a bottle to share in our room after the day's riding is done. At least one trip in three, we forget to pack the corkscrew, which means either buying one or picking up a screwcap wine. In a lot of small towns, this limits us to a couple sweet, dull, bottled-yesterday varieties. But happily, better wine stores now carry a range of no-cork wines from reputable vintners including Beringer, Hogue Cellars, and Beam Wine Estates.
Haskell's, the largest purveyor of fine wines in the five-state area, carries dozens of screwcap options. Today, Mitch Spencer, wine director for Haskell's, says most of the screwcap wines he sells go for less than $15. But that's changing. "Two years from now, I'll have a full line of more expensive wines under screwcap," Spencer predicts. "The winemakers in Oregon, California, and Washington are all going in that direction."
Luckily, though, the affordable screwcap wines he has available right now run the gamut from adequate to amazingly tasty. Here are some you might want to try:
Gazela Vinho Verde 2006 (Portugal) — this is a sweet, frothy, nearly sparkling white with a melony aroma, effervescent mouth feel, and a clean, complete, finish; a beautiful label (which I'm told is important to the majority of female buyers) featuring artistic renderings of flowers and rain, 9% alcohol
d'Arenberg Stump Jump White 2006 (Australia) — conjured out of Riesling, Sauvignon Blanc, Russanne, and Marsanne grapes, this blend is lemon-yellow and clear; mildly citrusy with a little chalk; and mellow but with a surprisingly musky finish; simply nice and a great accompaniment for a meal of pasta or white fish, 13% alcohol
Domaine de Pouy 2005 (Cotes de Gascogne) — a clear, sun-filled white so clean it tastes diamond-cut; an aroma of wet rocks, hay, and field, with a full, assertive grassy flavor that lingers on the back of the tongue; excellent for drinking alone, 11.5% alcohol
Bonterra Sauvignon Blanc 2006 (Mendocino and Lake counties) — so startlingly redolent of cantaloupe, drinking this wine is like eating a slice of fresh fruit; secondary notes of wildflowers and tart fruit; a full-bodied wine that can be paired with everything from shellfish to pork, 13.3% alcohol
Newhaven Sauvignon Blanc 2006 (New Zealand) — a bewildering blend of sharp green pepper and pink grapefruit, this is an aggressive wine with complex layers of flavor and a full, flinty finish; a big taste that may not be for everyone but will provide ballast for a hearty vegetarian meal, 13.5% alcohol
Le Grand Pinot Noir 2006 (Southern France, vineyard not specified) — truth, I detested this wine, but it's one of Haskell's top sellers, so others must disagree; flavors include soft plum, licorice, and — to my palate — a stale bit of shoe leather; light with no finish to speak of, 13% alcohol
Laurel Glen Reds 2005 (Lodi, CA) — a blend of Zinfandel, Carignane, and Petite Sirah, this is a big, nearly heavy table wine with plenty of fruit; nice, if slightly off balance, it tastes of oak, cherry, and cassis; best served with burgers or brats, 14.5% alcohol
d'Arenberg Stump Jump Red 2005 (Australia) — the first cousin of Stump Jump White is equally as drinkable, with an ultra-smooth blend of Grenache, Shiraz, and Mourvedre; woody, with notes of perfume and black cherry; big flavor with a dazzling finish; a great choice for a picnic: bread, cheese, fruit and wine, 14.5% alcohol
Fess Parker Lot 71 Frontier Red (California) — this is a brand-new wine from a new vintner, and it's phenomenal; earthy and ever-so-slightly meaty with generous touches of blackberry, cherry, violet, sandalwood, cinnamon and cassis; it's a colossal taste that's overtly sexy; drink this alone or with food, just drink it, 15.5% alcohol