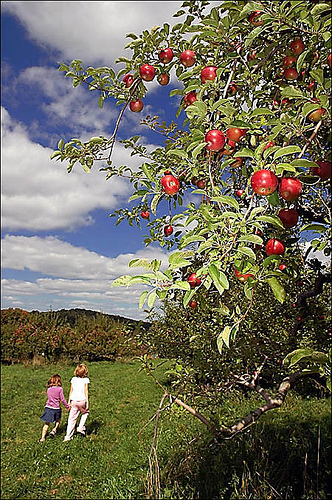 This is the perfect weekend for an orchard run. Damn the bees, deal with the crowds and get out to support a local farm. Some of my favorites:
Deardorff Orchards
Out Waconia way, dontcha know. It's a big farm with 5000 trees and a cool old barn built in 1900. I remember a cold weekend with a giant bonfire at this orchard a few years ago.
Emma Krumbees
It's the Las Vegas of apple orchards. You'll really have to fight crowds if you go on a nice weekend, but they have a ton of family crap to do. You'll have to pay admission to get into the Great Scarecrow Festival, but it's cool.
Fall Harvest Orchard
This real working farm is my family's favorite. We feed the cows with big ears of corn, we play with baby pigs and pet chickens and goats. The wagon ride is one of the best, they actually talk to kids about flax and amaranth.
Afton Apple
Drive down to gorgeous Hastings for the corn maze and fall harvest raspberries before the frost!
Sponsel's Minnesota Harvest
On a brisk day you can snack on your apples while taking in the Fall colors on the hiking trails. Better yet, sign up for the one-hour guided horseback ride through the bluff-top trails.
Deer Lake Orchard
Always hopping with live music/entertainment on weekends. Save this one for October 13th so you can check out the bluegrass Whistle Pigs.
Pine Tree Apple Orchards
I haven't been to this one, but I have WBLaker friends who go every weekend. They swear it is WAY better than beating back the throngs at Aamodts.
Minnetonka Orchards
There were too many tchotchkes last year and not enough food, but just for the brats with cider onion relish alone….