Beyond the plethora of plants, produce, and flowers, one of the pleasures of an expedition to the Minneapolis Farmers Market is the prospect of more abiding goods: The vendors who populate the south end of this market are selling everything from cell phones and bumper stickers to fire pits and fine crafts—and yes, even art. I'm pretty sure I'll never renew my phone plan here, but there's a great time to be had browsing the booths of the artists and craftspeople in the sheds tucked in the shadow of the I-94 overpass.
Several stalls offer ceramics, but only Phil "Pottery Dude" Echert stacks his pots atop one another and calls them "garden art." These sculptures are deceptive—the pots look precariously balanced but are threaded on iron poles, so the whole structure is really quite sturdy. Aside from the topsy-turvy trickery, it's the glazes on Phil's pots that will lure you. These saturated primaries capture the cheery feeling of a garden in full summer bloom. The best part: You can pick the pots to be included in a custom sculpture that Phil creates on the spot.
A few stalls down you'll find Cheryl Fitzgerald's Iron Gallery. Like many of the market's artists, Fitzgerald shows a lot of outdoor sculpture. Her pergolas and arbors have the appeal of lovely old iron gates and will lend any garden an aura of mystery, as if promising entry to an otherworldly realm just beyond the vines intertwined on them. On a recent trip, I was also entranced by an oversized flower sculpture and a stand of giant iron cattails. For those focused on practical outdoor accessories, Fitzgerald offers stylish tall tables and chairs to create a backyard patio bistro.
Beyond the monumental yard art, plenty of vendors appeal to the connoisseur of smaller wares. Jewelry and textiles abound, if you don't mind strolling by tables of knock-off sunglasses and watches to find these homegrown crafts. Be sure to check out Kendra Gebbia's handmade purses printed with charming, stylized botanical images, and her beaded necklaces, along with her intricate, nature-inspired wood-block prints. Across from Gebbia are two vendors—J&K Glass Expressions and Erika Royer of Glamorous Glass—that should be sought out by any chick with a glamorous event on her schedule. Erika's fused-glass jewelry and hair clips are colorful and unique, and J&K's knockout coasters and platters can serve as distinctive accessories for gifts or entertaining.
Deeper within the market, near the guitarist belting out '70s and '80s soft-rock hits, you'll run across the Art Andes stall. Owner Melanie Ebertz imports gorgeous flat-weave rugs and textiles from Peru, and on at least one trip to the market, a visiting artisan from South America was demonstrating weaving technique. Though the process is ancient, these vibrant rugs, with warm colors and geometric designs, would look equally at home in a cutting-edge loft space or a cozy Arts and Crafts hearth room.
Evla Pottery entices the market-goer with "Berry Bowls," decorative colanders that come with saucers to catch water from freshly rinsed berries. You can wash, drain, serve, and store your harvest in the same vessel. These rustic earthenware pots are an ingenious necessity for any well-equipped kitchen.
After fortifying yourself with a couple of fish tacos from one of the market's fantastic seafood stalls, turn your attention to Francis Metal Works, where Chuck Adams uses large fieldstones and iron tube stock to fashion all manner of birds native to Minnesota. These sculptures are not your grandmother's kitschy yard art. I love a good pink flamingo as much as the next girl, but these birds are subtle, sophisticated, and lovely.
In short, you can rely on the farmer's market for one-stop shopping. Where else can you pick up Minnesota-grown spinach for your Sunday brunch along with trendy beaded earrings for the Saturday night before? Who knows—you may even drive away with a giant daisy sculpture in the trunk.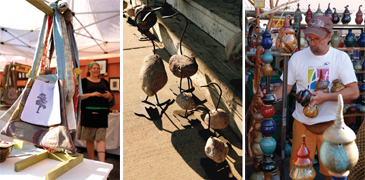 From left: handbags by Kendra Gennia, birds from Chuck Adams, and Phil Echert's stackable pottery.
This article originally appeared in issue 19.1 of access+ENGAGE. Subscribe to this free arts e-magazine at mnartists.org/accessengage.