Minneapolis-St.Paul is a Midwestern oasis for the visual arts. In fact, we here in the Twin Cities have visual arts all over the place, damn near everywhere you look… or where you aren't looking, as is often the case.
The visual arts don't just hang at big name institutions like MIA or le Walker and hot small spots around town like Rogue Buddha or First Amendent. They're at rock shows, in the corners of coffee shops, on the sidewalks, in people's clothing, and on and on.
This week, while I'm guest bloggin' over here, we'll hopefully take a look at this strong visual culture in the Twin Towns.
First, let's start with something conventionally unconventional, but still pretty great. These pictures from painter Rachel Bliss, whose exhibit from a few weeks ago wasn't on some stardard white walls of a gallery, but rather hanging up in the Uptown clothing store Cliché.
Pretty fantastic stuff for a small show at a boutique, and a perfect example of how high grade art can show up at spaces alternative to galleries.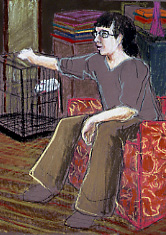 You can check out more of Bliss's work at Cliche and Bliss's mnartists page.