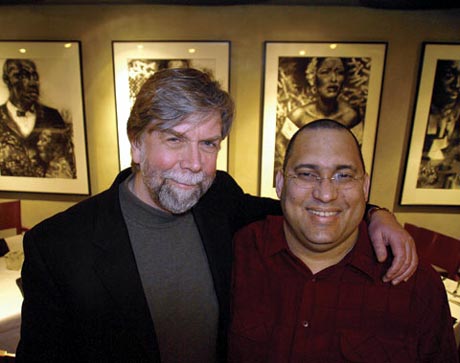 Lowell with Cuban pianist Nachito Herrera. "Lowell Pickett and my family, we have a spiritual relationship," Herrera says.
 
After seven years, the three principals in the MPPC finally wore themselves out, and Lowell had already taken a second job in a restaurant. In '83, he became a manager at Faegre's, where he started booking local music acts. He also volunteered on the board of the Southern Theater and with the Minneapolis Arts Council. And it was through those connections that he met the Bandana Square developers, who asked him if he wanted to open a restaur
ant. After resisting for about a year, Lowell was finally won over by the unique character and history of the building (they built Pullmans and repaired other railroad cars there).
The Dakota launched in August '85. Its original business plan was to offer quality food and wine with strictly local jazz music. But in '88, McCoy Tyner's agent began cold-calling jazz venues across the country to see if he could assemble a national tour. Lowell was outraged, and berated the agent for peddling Tyner like insurance, telling him that he'd been friends with the pianist since '76. In fact, Lowell credits Tyner for providing his "jazz moment"-the moment that won him over to the music for life-when he helped promote one of the pianist's concerts at the Guthrie. "Just blew me away," he says, shaking his head. "That was true on record but when I heard him live, there was this whole other dimension."
Lowell told the agent he would be honored to have Tyner at the Dakota, but couldn't afford him and didn't believe the room was sufficient for a man of Tyner's stature. A few weeks later, the agent called back and said Tyner would make himself affordable to the Dakota if Lowell would ensure a quality piano on the premises. Flattered but nervous, Lowell rented a Steinway and put Tyner and his band up at the posh Whitney Hotel in Minneapolis.
Tyner praised his engagement at the Dakota so much that the agent asked Lowell if he'd be interested in booking pianist Ahmad Jamal. Then a regular patron at the club said he had a connection to saxophonist Bobby Watson, who played the month after Jamal and slipped Lowell the number for vocalist Betty Carter, who in turn agitated for Freddie Hubbard and Shirley Horn. Radio host Leigh Kamman convinced Carmen McRae to appear. Word of the luxurious accommodations and delightful between-set food got around, and just like that, before '89 was out the Dakota was hosting top-caliber jazz artists on a monthly basis.
Yet despite this vibrance, the nightspot's first years were rocky from a financial standpoint; in January 1987 it was placed under Chapter 11 bankruptcy regulations. Lowell says he stabilized the business after that, but interest on the debt continued to mount. (He also personally owed money to the Internal Revenue Service.) Four years and numerous near-catastrophes later, the Dakota finally was ordered padlocked in April 1991 and its assets seized and liquidated under Chapter 7. When he discovered I would be including the padlocking of his club in the story, Lowell grew angry and, when that didn't work, argued the coverage was unfair because "many people who go to the club today have no idea that there was even a Bandana Square location." It was as if the maître d' side of his persona had spotted an obstreperous bum on the premises and demanded he be evicted forthwith.
If anything, however, the Dakota's financial woes may have enhanced the esprit de corps among the club's patrons and employees. "Lowell was both a consummate gentleman and a gentle man; very non-confrontational," says Pollard. "He was well-read, well-rounded, and a man of manners, a rare and important thing in this world. It was hard for him to say no and everybody wanted a piece of him. He is not a hard-core businessman." He goes on to recall "that horrible night" when the club was closed down. "All of a sudden my bar was surrounded by these truck-driver types with broken noses. They weren't normal characters. They came in at quarter to twelve, demanded the till and started taking the artwork off the walls. We were all aghast but we also knew it was inevitable.
"As I recall, we were closed for three months," Pollard continues. "We never thought of it as being closed, of course. We knew it would be hard to get another job, because if Lowell ever reopened we'd all go back to him."
Local musicians played benefits. The "A-Train" program was started, where for every $100 members contributed they received $110 in trade at the club. (Full disclosure: I contributed $400 back in '91.) Even so, many observers believe the Dakota wasn't really out of the financial woods until Lowell sold half his stake to Richard and Julie Erickson and the club moved across the river to Minneapolis in October 2003.
"About two years before we moved, I was talking to Lowell and he seemed to seriously be considering selling the Dakota," Erickson reveals. "I wasn't interested in buying the whole thing but asked him how much he would ask for me to be his equal partner. He told me, and I talked it over with Julie and we agreed. Lowell told us to take our time and make sure. And we did and we were sure. But we were also sure we needed to get out of Bandana Square."
The escape plan came in the form of an available street-level space in the Target corporate headquarters at Tenth and Nicollet. Lowell and Erickson green-lighted the move once they realized the ceiling could be knocked out to add a balcony for more seating, and reached what Erickson describes as a "fair, favorable lease agreement for both sides" with Target.
It was inevitable that some club patrons would be unhappy with the new location-and, by extension, the new culture-of the Dakota. The new club is tonier and more expensive (thanks to the cost of Nicollet Mall real estate), and, for better and worse, the staff is more professional and less like a big family. The music is also less purely jazz-oriented, reflecting Erickson's taste in blues, R & B, and New Orleans-based music. St. Paul residents and hardcore jazz fans are now more apt to coalesce around the Artists' Quarter east of the river.
That said, Lowell's taste and personality continues to hold sway at what is now known as the Dakota Jazz Club & Restaurant. That means that as 2008 was being ushered in, patrons arrived in furs, in hoodies and jeans, and in little black dresses. It means that the music that night was broadcast from coast to coast on National Public Radio, as were past New Year's Eve gigs by Roy Hargrove, Harry Connick Jr., and others.
This time out, the headliner would be Cuban pianist Nachito Herrera, paired with members of the Steele family and a crackerjack horn and rhythm section. When Herrera arrived in Minneapolis in February 2001, Lowell told him how much he had enjoyed promoting the careers of other Cuban pianists such as Chucho Valdés and Gonzalo Rubalcaba. Lowell put Herrera in touch with an immigration attorney, recorded him live at the Dakota, and released a CD from Herrera on his own label. He also helped the musician land work at the MacPhail Center for Music. After 9/11, when it looked like it would be impossible for Herrera to get his wife and two daughters out of Cuba, Lowell told him to keep his hopes up and keep working the bureaucracy. And when Herrera's family finally got to Miami in February 2003, Lowell saw that they reached Minneapolis as soon as possible. "Lowell Pickett and my family, we have a spiritual relationship," Herrera says.
And now it is time for the last set of music to grace the Dakota stage in 2007. As Lowell steps to the mike to greet a na
tional audience of radio listeners and a buoyant, sold-out club, the glow on his face tells you all you need to know: A Bright Moment is in the offing.