Thanks to Rich Goldsmith for the use of his camera, and for his photos.
The Strip Club finally opened last night in Saint Paul, and while it perhaps lacked the expected tits-and-ass show, many a mouth was watering throughout the evening.
I must confess, I had absolutely no intention of going — after all, this is Iggers and Bauer turf I'm stomping on here, and they're hardly run-of-the-mill opponents. But several email exchanges later (the power of the internet), I found myself with boots in hand. Maybe I was swayed by the misguided idea that three or more people wanted to see me. (I'm sure they hardly cared, but it's so hard to tell with you stoic Minnesotans. Perhaps it's merely a convenience to think so.) Maybe I finally caved into a self-imposed sense of responsibility to get out more and offer first-hand accounts. Or maybe I just needed a drink.
Thanks to Max Sparber and Courtney Mault, I got one. (And you can blame them, and a few other, for this post you're getting as a result.)
The Strip Club — a joint venture between Tim Niver (who greeted us with great enthusiasm) and Aaron Johnson, of the Town Talk Diner, and Chef J.D. Fratzke, previously of Muffuletta — sits in Dayton's Bluff, on the corner of Maria and 6th Street. The space is beautiful, charming, in fact — smaller and far more refined than the Town Talk, with the elegance of Muffuletta. The main level has a beautiful bar in which I could easily see finding a regular stool, and somewhere around 10-12 tables from which to choose. The decor is simple and elegant — white painted brick loosely speckled with mirrors (a wise choice given the relatively narrow quarters).
To the left of the entrance, however, stands a quaint old spiral staircase leading to the sweet-spot of the house. The second level, a balcony of sorts, overlooks the main floor, gives a fabulous sense of privacy (despite the fact that it contains almost as many tables as its lower half), and brandishes many fine points to admire: a wall of varied glasses (which for reasons I cannot explain, I found quite beautiful); an ornate, seemingly iron, black railing (matching the staircase); and a fireplace embedded into an actually functional door.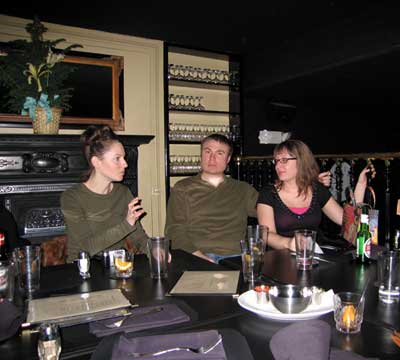 This is not the most flattering photo (everyone looks so mean), but you'll notice the fireplace mantle behind Courtney (left). Try to ignore the hideous blue ribbon on the plant — the only touch of gaudiness to be found. That entire wall panel, upon which the mantle is built, opens up into another room behind it. It is, in fact, a big square door. Precious!
The menu.
Drinks first, of course. The drink menu boasts numerous prohibition-era cocktails: the Joker, the Sidecar, the Old Fashioned — all quite good, though at your typical $8-a-pop prices. Two beers on tap — a great blonde (also at $8) and an unconvincing porter (with a strangely bitter afterbite). Numerous bottled beers. And a great looking, somewhat modest, wine list. The wine list actually surprised me by not emulating every other wine list in town. A nice selection indeed.
The food.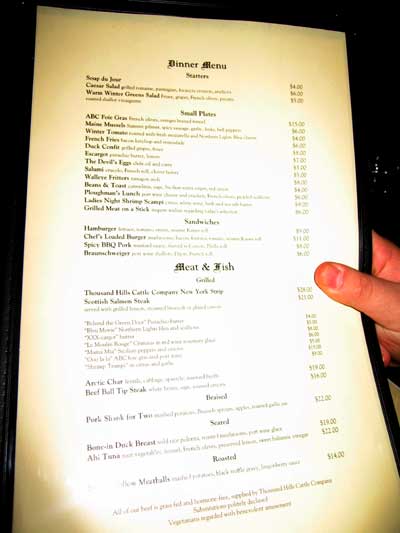 I'll go anywhere for a good glass of wine with escargot. When I was three years old I took my own bag of snails (from the beach) to a restaurant in Spain and asked them to cook them for me. The waiter took the bag, winking at my bewildered mother, and brought me out a dish of their escargot — which I eagerly devoured, thinking they were mine.
The Strip Club escargot did not disappoint — though, I must say, it's almost a crime to not serve some bread with which to wipe the plate. (The bread is a bit pricey at $4 a plate — which includes about five pieces.)
This is, of course, just one of many Small Plates offered on the menu — making that regular stool at the bar that much more desirable.
The Lady's Night Shrimp Scampi, served in a champagne glass, was quite good. And the deviled eggs have a wonderfully spicy touch of curry and chili oil.
Max went nuts over the whole scallions served with the Ploughman's Lunch — essentially a port wine cheese plate. At least this came with crackers. And the crackers were quite wonderful, though oddly, despite their perfect plainness, they seemed to overwhelm the cheese.
I didn't try any of the main courses — no strip steak for me — but those that did seemed more than satisfied.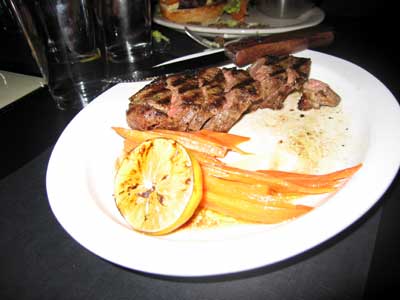 The set-up is great. Steaks come with a choice of eight different toppings (or none, like the one above) — ideal for all tastes. A couple members of our party raved about their steaks, while one lone member seemed unimpressed. "It's ok." (More stoicism perhaps?)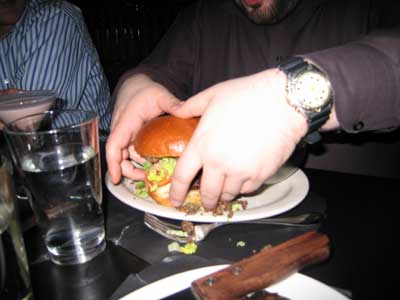 The burgers were a hit all around.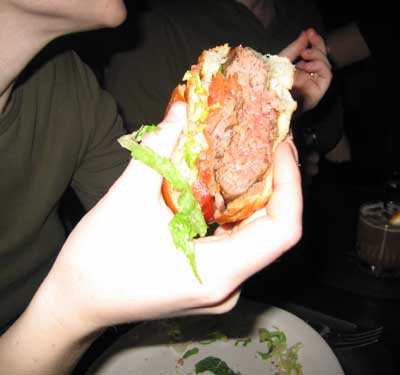 Cooked to perfection. It's nice when medium really means medium.
If presentation were everything, I'd have to give it up to the dessert.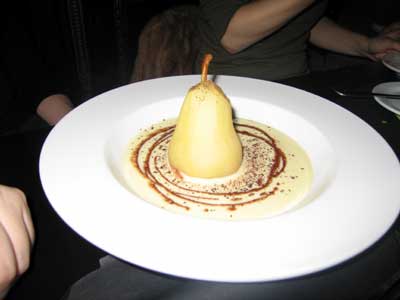 Our party ordered this beautiful pear dish.
But when it came time to actually eat it…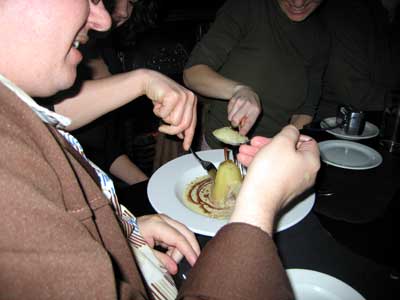 They had a little trouble getting the forks in. The pear wasn't cooked, you see; and pears aren't exactly the softest of fruits. I'd guess a little baking time — perhaps poaching to preserve the juices — would soften it up, bring out the flavor, and better swathe the chocolate at the core.
Overall, the experience was delightful: the space charming, the drinks intoxicating (and, yes, delicious), the food satisfying, the presentation all-around lovely, and the service absolutely fabulous — but, judging from Tim's visits to the table and a final round of shots on the house, I gather we may have had somewhat special treatment. A smart man (men, actully, since the other owners were involved), indeed. It's never a bad idea to treat a group of local bloggers well on opening night! Never a bad idea at all. See for yourself: Aaron's post, Ed's post, and Courtney's photos. Trust me, their photos are far better than the ones here. (Sorry, Rich. Don't take it personally. Your camera has a better sense of humor.)