Knowing when to back off, he married his sweetheart Cindy, whom he had met climbing. The couple settled down in the Minneapolis suburb of Plymouth, where they raised two children while Martinson learned the plumbing business from his father-in-law. Armed with maps and using recreation areas as a canvas to plot adventures, Martinson planned outside getaways for his family between plumbing jobs and shuffling the kids back and forth to the Dairy Queen. Other times, he'd take off with friends on canoe trips to the Boundary Waters. Or, he'd go bushwhacking through the wilderness in Northern Minnesota to fish secret brook trout ponds. Martison recalls their 11-year-old son Ryan saying, "Dad, I can see the road through the floor," while driving up north in his rusted-out AMC.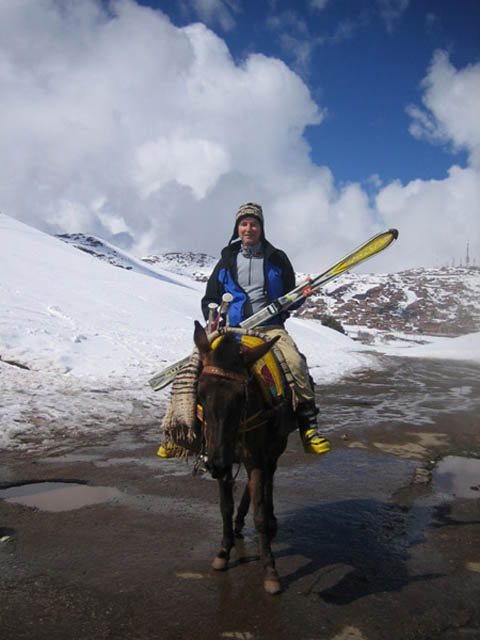 In the winter he kept himself in shape by practicing tele-mark skiing, likening the ballet-like qualities of that sport to some of the delicate and decisive moves involved with technical climbing. Always a curious athlete, Martinson led weekend trips up north after a friend from a Minneapolis sporting goods store tipped him off about skiing through the woods on frozen creek beds that flowed into Lake Superior along Minnesota's North Shore. "I'd get a gang together with two cars — like canoeing, we'd drop one car at the end of the run and shuttle back to a starting point — lots of twists and turns and narrow canyons to ski through. We heard running water underneath our skis and saw frozen waterfalls, animal tracks, and things you wouldn't normally see you if you didn't go off-trail. It was beautiful."
He also became increasingly active with Tibetan human rights issues, an interest he'd cultivated since finding a copy of Seven Years in Tibet, by Heinrich Herr, in a dusty, south Minneapolis bookstore when he was 18. Believing the book to be "a defining moment" for him, Martinson co-organized a Minnesota youth outreach program by telephoning around town for park system discounts and free tickets so he could take groups of Tibetan kids on snow-tubing, skating, horseback riding, and canoe trips. He did that for almost five years while assembling perhaps the largest collection of Tibetan books in the Midwest.
At forty, Martinson took up marathon running, competing in 25 marathons and five ultra-marathons throughout Minnesota, Wisconsin, Illinois, California, and China. He believes the 100-mile Marathon in northern Minnesota, from Silver Bay to Grand Marais, along the Superior Hiking Trail was the most grueling race of his life. He also received some continuing education about the importance of doing your medical homework before participating in ultra-marathons. "It seemed like 95 percent of the run was up and down hills and over old hiking paths or rocky game trails — if you laid down to rest, even for five or ten minutes, you didn't feel like getting back up. At one point, I started to hallucinate — seeing marker-signs where there were no marker-signs." Finishing the marathon, Martinson felt sick to his stomach and checked into a local emergency room when he noticed he was slurring words. He left the hospital an hour and half later, after his potassium and sodium levels were normalized.
After a highlight of running in the Beijing Marathon in 2000, Martinson ventured into Tibet at the end of the race. This was his first of two trips to the country from which he helped arrange passage to America for a Tibetan woman who wanted to escape Chinese religious and political persecution. "I met Craig in Lhaza, where I worked as a waitress," said Tzering Dolna. "I was surprised and happy to hear him speak Tibetan in a simple way. He was interested in how a Tibetan family lives, and I took him home to meet my family. Craig helped me with the bus, driving a car, and how to apply for a job when I came to America. Cindy took me swimming and skiing, and I went to Wisconsin with the family. They're very kind."
As special family friend, Tzering still helps Craig practice the Tibetan language that he studied for over four years, and she vacationed with the Martinson family in Arizona early this winter. Reluctant to talk about politics back home, Dolna was granted asylum last year and now lives and works in Minneapolis.
When his kids were out of high school, the wanderlust crept back home, and Martinson's schoolboy dream of riding waves resurfaced. Still landlocked in the flat country, he scoured the Internet for waves around the world. "It was something I always wanted to try, but never got around to. There was always work or kids or other sports."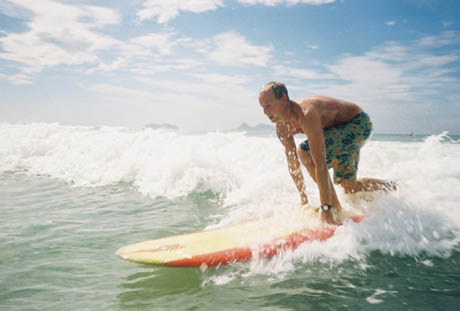 At fifty, Martinson saved up and went away to surfing school. Shaking his head, he recalled meeting his surfing coach for the first time: "He didn't know what to make of us."
"In 2004 I received a booking from some guys in Minnesota asking to attend my school in the Canaries. The five guys who arrived sat on my couch, and at first I thought that getting through the course without a cardiac arrest would be a plus. The first big surprise came when I asked them what sports they did. Well, I got answers like long-distance kayaking, triathlons, off-piste (off-trail), and the like. I was really taken back, and I think Craig, their leader, sensed this too.
"The next day, I was completely surprised; these guys had it and were learning at a really good pace — all up on the first day and just loving it. When they left, it was obvious to me that this was not going to be their last surfing adventure, and lo and behold — about six months later, there was an email from Craig and 'the boys' were on a beach in South America. I just cracked up. I feel so proud to be part of that initial seed and Craig's journey, too."
—Tim Jones, Surf School Director; Lanzarote, Spain (Canary Islands)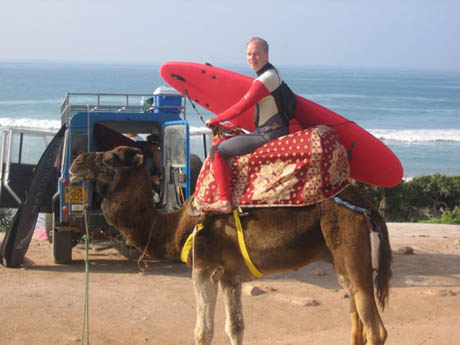 A year later, Martinson discovered that his new surfing life would run aground after consulting with a doctor about a persistent weakness in one of his hands. A grim diagnosis of ALS, commonly referred to as Lou Gehrig's Disease, compelled the Martinson family to draw a finer focus on the time they had left together.
In 2006 Martinson hung up his skis after falling a dozen times while skiing off-trail at 12,000 fee
t in the Moroccan High Atlas. "I'm done skiing," he said in a matter of fact tone while taking off his skis at the bottom of the mountain. Two days later friends helped him pull on his wetsuit so he could bodysurf the North Atlantic waves.
The following summer, the Dalai Lama blessed Martinson in Minneapolis for his longtime support of the Tibetan people and the volunteer plumbing work he did in Tibet. Accepting the blessing with characteristic humility, Martinson recalls feeling like he was "in the presence of very special person" when he met the Dalai Lama. "He wasn't pretencious at all, more like a common or ordinary person."
Craig and Cindy are now at home at the foot of the Superstition Mountains, in Arizona, after selling their two-story house in suburban Minneapolis last fall. Appreciative of adaptive devices and support groups available for people with disabilities in America, Martinson and Cindy are taking on the challenges of ALS together. "Nobody wants this disease, but you have to deal with the adversity and make the most of it."
His experience with ASL support groups is conflictive. "Cindy seems to enjoy her support group for care-givers," he said. But perhaps she enjoyed hers more than he enjoyed his own support group. "It can be depressing to see people in advanced stages of this disease, but once again, you have to make the best you can out of situations. I have maybe a year or two left. If there's one good thing about having ALS, it's that you have some time to make arrangements." He is currently enrolled in a double-blind coenzyme study while adjusting to ongoing changes in motor neurons.
Looking forward to exercising as vigorously as he can every day, Martinson flexes and stretches in and out of the backyard swimming pool to keep his muscles from locking up. Another thing he looks forward to are his children and friends from all over the country who frequently stop by to visit and sometimes help Cindy out with care giving. Their daughter Taylor will graduate from college this year and is a volunteer with the Rochester, Minnesota branch of the global ALS awareness-raising group Walk D' Fest. She still climbs with her mother.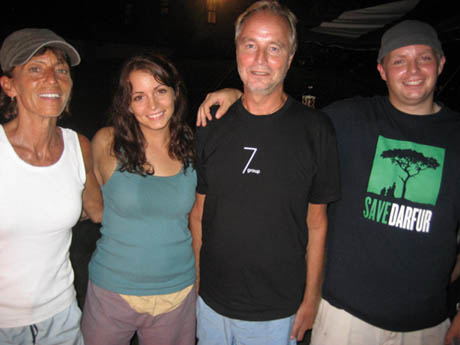 Spending more time reading and online, Martinson continues to plan day-trips and enjoys riding around the desert with Cindy or friends in a car. As leader of the Boys of Summer & Winter Adventure Club he still organizes rugged hikes around Arizona from a motorized wheel chair. "I don't have the energy or mobility I used to, but I've always enjoyed researching and putting together trips." At one point, Cindy rolled her eyes and commented that Craig is "getting fussy—kinda like a little old lady." Then again, longtime friend and adventure pal Blair Meyer smiled and chuckled "Craig couldn't go hiking with us, but when we got back from the hike, Craig seemed just the same, only this time he was telling us where the spices are and how long to cook the pizza."
"Scott and Tom are coming out from New York and Boulder next month" said Martinson with enthusiasm "and we're going to the Wrigley Mansion in Phoenix for drinks. It's a beautiful place with a Steinway piano and it's free. We can sit on the balcony and watch the sunset — they have really good carmel/apple martinis and they're only five bucks during happy hour."
At the foot of the Superstition Mountains Craig Martinson keeps the dream alive in the best way he knows how — as a free spirit with courage, stopping now and then to help others along, and point out the way.