In an attempt to one-up United Health for most ridiculous Minnesota-based health insurance company, HealthPartners (relatively) recently announced its new Mascot, Petey P. Cup. He's a giant urine specimen container with arms, legs, feelings, and no shame. Since then I've learned quite a bit about Petey P. Cup and his sidekick Pokey the Syringe. Here are eleven things I've learned about HealthPartners' new campaign.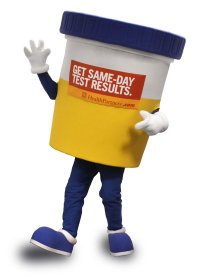 In order to promote Petey P. Cup HealthPartners employees were given urine specimen containers with yellow M&Ms inside. Why do I get the feeling that someone at HealthPartners originally wanted to serve lemonade in the cups but had the idea quashed by higher-ups?
Petey P. Cup is part of a larger campaign by local agency Kerker that involves placing, among other things, giant tongue depressors, syringes and pill capsules around town.
According to MPR, The first person to don the Petey P. Cup outfit also played Santa Claus at several HealthPartner's parties. I certainly hope he received a significant bonus.
The idea came from Greg Klugherz, vice president finance, planning and improvement for the HealthPartners Medical Group is the person who came up with the idea for Petey P. Cup (also from MPR). Yes, planning and improvement.
According to a HealthPartner's profile about Petey P. Cup. His favorite songs are (and I'm not making this up):"Yellow" by Coldplay, "Splish Splash", "Bridge Over Troubled Water" and Don Ho's "Tiny Bubbles". Although, it Pokey's favorite tunes have not been made known, I'd place James Brown's "King Heroin" and "Sister Morphine" by the Rolling Stones near the top of the list.
That same profile says that Petey P. Cup is 6'11 and his weight "depends".
In the pipeline for HealthPartners' dental division is a tooth named Pearly White. I'm sure she has a cousin named Denny Denture in the works as well.
Petey P. Cup can be your facebook friend. Currently, he has 408 "friends" and I am not one of them.
You can purchase Petey and Pokey merchandise including a Pokey baseball jersey for your kids, a $15 Petey P. Cup yard sign, and a Petey P. Cup clock that, at $11, is cheaper than the yard sign.
Petey P. Cup and friends are supposed to make the health care process more "fun" and "memorable" for HealthPartners members, according to MPR. Apparently, suggestions like "become more affordable" and "cover treatment for my ailment", failed to leave a positive impression during focus group testing.
Petey P. Cup has a YouTube video!
Good grief.