The first time I visited Gandhi Mahal, the new Indian
restaurant at 27th and E. Lake St., was before it was actually open
for business. I introduced myself to the owner, which seemed like the right
thing to do at the time, since I wasn't reviewing the place, and I wanted to
ask a lot of questions.
But it was a case of Not Thinking Ahead, since I should have
predicted what would happen the next time I visited the restaurant, a few days
after it opened. The owner greeted me with an effusive welcome, and proceeded –
with the best of intentions – to send one dish after another to my table. This
created the kind of dilemma I try to avoid: I still believe in paying for my
meals, even though I no longer have a lavish expense account – or any expense account, actually. I didn't
want to be rude, so I insisted on paying for a lot of food I hadn't
ordered. And I took a lot of pictures.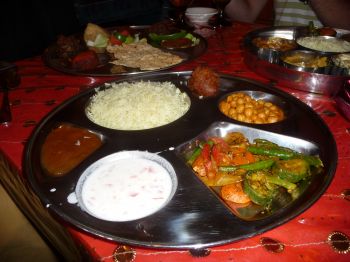 When I went back with some friends yesterday to sample the
lunch buffet, the same thing happened again, but this time the owner insisted
that he just wanted to show me some of the new dishes on the menu. Since the
platters didn't arrive until after we had finished our lunch, I didn't sample
the dishes, but just took some more photos.
At any rate, based on what I have sampled so far, my verdict
on Gandhi Mahal is mixed, but there are a couple of options on the menu that make it definitely worth a visit.
The owner is trying to create an image for Gandhi Mahal that
sets it apart from the many other Indian restaurants in town that all serve the
same three-pot repertoire of rogan josh and chicken tikka masala, etc.– but the efforts aren't entirely successful. The names of some of the dishes are
a bit more elaborate, but much of the menu is basically that same stuff you get
everyplace else.
On the plus side, they have done a very nice job remodeling
the space, which is now adorned with Indian arts and crafts, and a lot of
photos of Mahatma Gandhi. The menu finesses the fact that Gandhi was a strict
vegetarian by noting that portions of the menu are dedicated to "a strict
Gandhian diet" – which, translated into English, means that, just like every
other Indian restaurant in town, they have some vegetarian dishes on the menu –
but not as many as some of other local curry houses.
I wasn't impressed
with the lunch buffet – at $9.99, it's more expensive than most, and the
quality and variety were only average. But the individual entrée items I
sampled were actually quite good – including a shrimp coconut curry ($17), and
(if I remember correctly), chicken tikka masala ($12) and lamb korma ($14).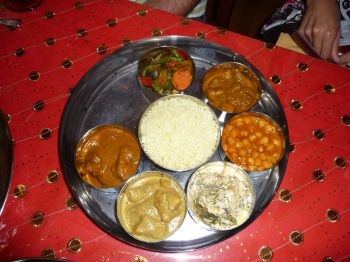 One thing I really like about Gandhi Mahal is the entrée
sampler – you get to choose sample portions of up to six different entrees (the
selection varies from day to day) – for only $3 for the first sample, with
rice, and $2 for each additional sample. The portion sizes seemed generous, and
it's a good way to explore a variety of dishes. The appetizer sampler is also a
good deal – five different appetizer for $5.