"Probieren Sie mal, Herr Professor," says the guy behind the counter at the market stall, as he holds out a freshly fried felafel ball. "Have a taste." (I guess the beard and glasses make me look like a Herr Professor.) A few feet away, another vendor holds out a green olive on a toothpick. Strolling through the Naschmarkt, Vienna's open air market, is like running a gastronomic gauntlet. The market stretches out for about a mile through the
heart of the city, with scores of vendors on either side of narrow pedestrian
walkways.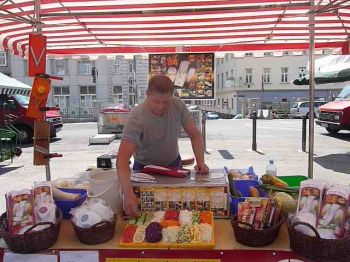 On loan from the Minnesota State Fair: The Vegematic guy!
Most of the fruit and vegetable vendors seem to be Turkish, but you
can also find bakeries, cheese shops, wine merchants, doner kebab vendors,
Oriental markets, and stalls offering everything from artisan vinegars to fresh
pasta, fish, meat and sausage. There are also a lot of little cafes in the
Naschmarkt, offering everything from traditional Austrian Wienerschnitzel and brathaendl (roasted chicken) to palatschinken (crepes) to Thai, Chinese and Vietnamese cuisine.
**Click here for more pictures from the market and take a look at the video (below).**