Zum Alten Fassl, a typical Viennese tavern-restaurant. Image from Zum Alten Fassl website.
Greetings from Vienna, one of the great food cities of the
world. Americans may lump Austrian cuisine together with German cooking, but
Vienna has its own distinctive cuisine, and it's a lot better and more
interesting than German cooking. In part, this might be because the Austrians
are Catholics, and the Germans – or at
least the northern Germans – tend to be Protestants. The farther south you go
in Germany, the more Catholic it is, and the better the cuisine. I have a whole
theory about this, that I will have to save for another time.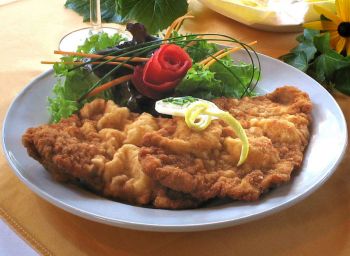 photo by Kobako, used under Creative Commons license.

At any rate, there's a lot more to Viennese cuisine than Wienerschnitzel
and Wiener wurstchen, (hot dogs, not to be confused with wiener dogs.) The classic Wienerschnitzel is made from
veal, and is actually an adaptation of Italian veal scallopine, but most Wienerschnitzels in Vienna nowadays are made from pork, followed by chicken or
turkey. A proper Wienerschnitzel is supposed to be pounded very thin, breaded
in egg, flour and breadcrumbs, and then pan-fried. Done right, a
Wienerschnitzel should be so un-greasy that you could sit down on it, if you
were so inclined, and not get grease stains on your pants. Wienerschnitzel is
about as ubiquitous in Viennese restaurants as hamburgers are on Twin Cities
menus – even Turkish and Italian restaurants seem to feel the need to offer a
schnitzel for less adventuresome diners. Another popular variation is the
schnitzel semmel, a chicken or pork schnitzel on a bun, which has a strong
resemblance to the classic Minnesota pork tenderloin sandwich.
Vienna is the former capital of the
Austro-Hungarian empire, which made it a cultural crossroads for centuries –
and besides, emperors usually like to eat well, and tend to do a lot of
high-end entertaining. Today, Vienna is still a crossroads – you can hear
dozens of languages on the streets, and find restaurants serving practically
every cuisine in the world. Thanks to an influx of Turkish immigrant "guest
workers" starting in the 60s, the most popular street food in Vienna is the
doner kebab, the Turkish cousin of the gyros sandwich, sold on practically
every street corner for about $5. Pizzerias are nearly as popular.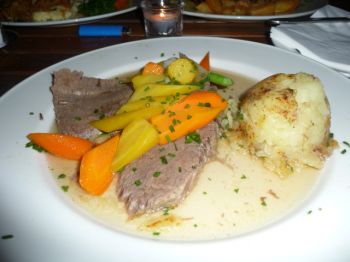 Last night, I took my son and his girlfriend out to Zum Alten Fassl, a
typical Viennese beisl (tavern-restaurant), for some traditional Viennese
cooking – he had Zwiebelrostbraten, roast beef with crispy fried onions, and I ordered one of the classics, Tafelspitz, tender boiled beef in beef broth, served with carrots, parsnips, applesauce and creamy horseradish sauce (it's a lot better than it sounds), all washed down with local Gosser beer.