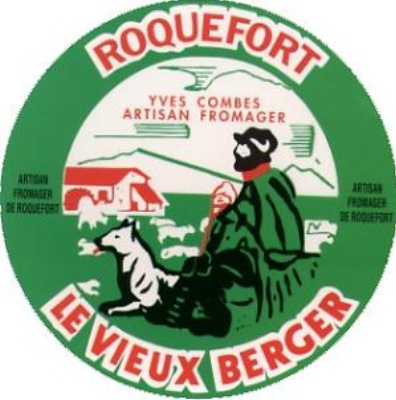 A few nights ago, we started a dinner partywith a cheese tasting. I would have posted pictures, but it was like a frenzy. Honestly people.
Old Kentucky Tomme / Capriole Farms, Indiana
This was an aged, raw milk goat cheese (much like my beloved Humboldt Fog). It develops a natural rind that helps develop the rich flavors. Raw milk cheeses are greatly influenced by whatever the goats have been eating, grassy fields, natural woodlands, etc. This cheese was great because there was a hint of earthiness a little like mushrooms that you don't usually find in goat cheese.
Roquefort / Le Vieux Berger, France
This Roquefort comes from Aveyron, the smallest of the AOC designated cheese caves. I think Mother Nature specifically carved out the land so that there could be a place where cheese would mature and mold to such a tangy and brilliant intensity.
Ubriaco del Piave / Italy
Our friend, the notable Doctor From New Zealand, was wild about this cheese. The legend of this cheese comes from the Veneto region during the first World War. Wanting to hide precious cheeses from invading soldiers, someone threw some fresh rounds into the wine cellar, in the vats of must under the fermenting vinasse. Genius! Now called Ubriaco, meaning "drunk", the cheese is cured about 4 months with the must from cabernet and merlot wines. The flavor has a touch of fruit, but has an earthy mellowness that makes it a great wine cheese. Duh.
Sottocenere / Italy
If you're a truffle fan, this is your cheese. Because it's not overwhelmingly truffle, like some people think things should be, which leads to too much of a good thing like lobster ice cream and foie gras burgers and ridiculous heaps of caviar. Stop the madness. The beauty of the truffle is that one only need a hint, an airy breath of flavoring to bring about the perfect bite. This cheese is studded with bits of black truffle and the ash-coated rind includes nutmeg, cloves, cinnamon, fennel and coriander.
Ossau-Iraty / France (Basque)
A raw sheep's milk cheese from the Pyrenees, Ossau-Iraty kicks Manchego's ass. That's it.
All cheeses available at the new cheese heaven, Premier Cheese Market on 50th and France in Edina.