Here are the rules of the demolition derby at the 150th Vernon County Fair, as explained to me by the 68-year-old lady who sat to my left for the evening's entertainment.
1. No hitting the driver's side door; all the doors are painted a different color from the rest of the car to help with following this rule.
2. If a firefighter shines you with a flash light, you're done. The last car moving wins.
3. If the firefighters wave red flags and the trucks flash their lights, then stop – they have to put out a car fire.
4. Umm…
That's right, the 150th Vernon County Fair 's demolition derby. I'm not quite sure how many of the 150 years have featured the demolition derby, but my dad remembers sneaking into them as a child in northeast Wisconsin, so it could be almost 50.
This year, the power system overloaded and we had to wait a half hour until they decided to just position the fire trucks around the track and use their spotlights to illuminate the track so they could get the thing started. We sat in the grandstand in the dark, soaking up the smell of fried foods that is all too familiar to Minnesotan fairgoers. Don't they know that stuff should come on a stick?
Some highlights:
– I guess I didn't expect this at a demolition derby, but the National Anthem was sung, and loudly.
– Two in the first group (called a heat) of cars raced full throttle at each other in reverse. The impact crushed their trunks like beer cans.
– One of those cars continued to compete without a trunk or rear axle until the firefighters decided it was too dangerous to have cars repeatedly slamming into the back of it with only the back seat to protect the driver.
– The third heat was won by a woman in a Beretta that was christened "The Queen Bee" (stinger included), and whose seat broke while backing into her final adversary, prompting the announcer to yell: "I think she ended up in the trunk on that one!"
– The announcer. On someone stealing tools: "If you catch that guy don't tell the cops. Give him some self justice." Even the locals looked around uncomfortably, until he corrected himself, "I guess that's a good way to get the cops mad at me." On the social utility of firemen derby officials: "They get valuable experience for dealing with highway accidents."
– The lady sitting next me saying that there was no way one of the drivers was 70 years old (as the announcer had claimed) because she'd gone to grade school with him and "If I'm 68, he's 68".
Next year I'll have to follow the lady's advice and come back for the tractor pull.
Some photos: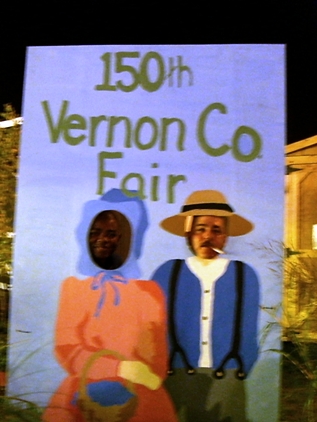 New Friends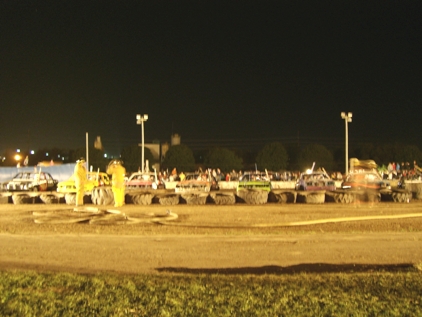 Firefighters in Training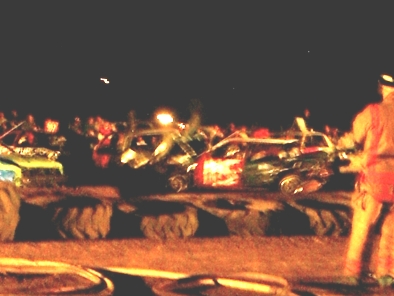 Action