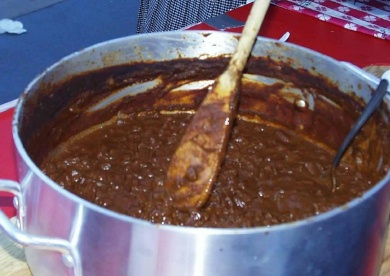 Yesterday, I spent a few delicious hours as a judge for the Town Hall Brewery's Chili Cook-Off. There were definitely interesting ingredients used in some of the dishes: zucchini, venison, curry, cocoa. Challenging the very definition of chili was one dish with a cream base and another that consisted solely of beef cubes and sauce, no beans, nothing else. Sadly, there were no entries that could be called blow-up-my-membranes hot, as I was gleefully expecting. I know we're Minnesotans, but come on people! Can you really find any other folks more deserving of fiery foods than those willing to venture out on a briskly -4 degree day?
I think of myself as a chili traditionalist, but I have to reward the innovators. I gave the dish that used cocoa powder high marks because, What A Pleasing Surprise!
The bigger surpise was the Town Hall Brewery itself. Even though it is located in the Seven Corners area, it's not your average slimy-floored college bar. It's smart and comfortable and above all, a kick-ass brewery.
While I was waiting for the tasting to begin, I was introduced to a seasonal beer named Retreating Darkness (points for that). Brewed with Peace Coffee (more points), this American black ale has the darkness of a stout with all the rich aromas and java overtones, without being a full meal. I could never have had a Guiness while sampling 18 chilis, but the two pints of Retreating Darkness served me well. Maybe that's why I liked the cocoa laced chili so much, it complemented my beer perfectly.
More points for Town Hall:
1. They do this chili thing (on a smaller scale) every Sunday night. For a measly $6, you get a pint of beer and all the chili you can eat. Sounds like a perfect Sunday Night Blues beater to me.
2. Humble and diligent (admirable qualities in a brew-pub), the brew boys are serious about crafting the best beers around. Don't just take my word for it, take the word of the judges from the Great American Beer Festival.
3. Although you can't buy bottles from your local liquor store, you can buy a big jug of beer, known as a growler, directly from the bar. And it's cheaper when you bring it back for a refill.
I don't know, maybe a growler full of Retreating Darkenss and a scorching bowl of chili could be the ultimate Valentine's Day dinner set-up.