Joy Teiken, the brains behind the local label Joynoelle, opened her new studio and storefront yesterday eve. You'll find it at 312 W. 42nd St. in South Minneapolis. Here she is, looking as carefree and chic as ever while taking a short break from basking in the glory of it all: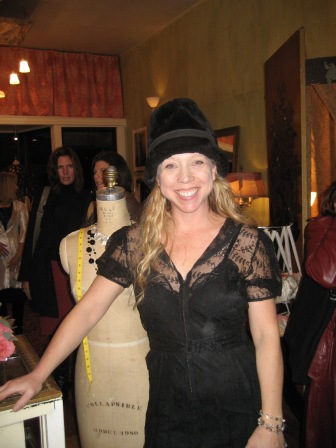 And here's Teiken's friend, Penny Larsen. You might remember her from our September fashion feature with The New Standards; she's married to bassist John Munson. But she's also a jewelry maker – and a damn talented one, I might add. I spent much of last evening admiring a crystal necklace and stunning hairpin, both of her design. She and Teiken are planning to host a "Design Your Own Gift" party for sometime in November, whereat partygoers will be able to make their own handbags, jewelry, and other gifty itmes. Check back for the 4-1-1 on that happening.

I also encountered Kimberly Jurek, of Kjurek Couture (her clothes are available locally at Cliche), who looked around the Joynoelle work/retail space and remarked, "This is my dream."

Anna Lee of MNfashion and Ruby3 wore a sporty cap (it was not, however, of her own design) and knowing smirk. Already, she's busy readying for the spring '08 Voltage Fashion Show – applications are due TODAY, if you'll believe it! As of late last night, she had already received applications from sixteen designers. Note that the show only has room for twelve.

Russell Bourrienne was there, too, also with a smile on his face. He's been swamped ever since MNfashion Weekend, he said. His open studio event, which was part of MNfashion Weekend's offerings, yielded several commissions. Another boon to the business: Just last week, it was announced that he was runner-up for the Macy's Distinction in Design Award. Bravo, Bourrienne!

Meet Nic Marshall, fashion photog extrordinaire. He was, roughly, my "date" last night – the boyfriend I left back home to cook me some din-din. Marshall is a favorite photographer of The Rake, as well as plenty of other local publications. Just announced: He's also going to be the sole photographer for Voltage 2008.

Here we have Katherine Gerdes and her "little brother," Nate. These two were en route to a dinner engagement and stopped in for a quick hello. I took the opportunity to badger Gerdes yet again about availability of the beautiful jersey/satin dresses she showed at Eclecticoiffeur's MNfashion Weekend runway event. (Read more about them here.) She says I can order one direct, if I so desire.