THEATER & PERFORMANCE
Particularly in the Heartland

Part of the Walker's Out There festival of experimental theater, this show, by a youthful New York City ensemble called the TEAM (Theater of the Emerging American Moment)
defies rampant cynicism by presenting a work of resounding optimism.
Set in Kansas, the action unfolds within an evangelical household. The
parents have just been killed by an awful Kansan storm, but the
children believe the rapture has taken them. What's surprising about
this work, especially in this age marked by Colbert Report satire,
is how the TEAM avoids irony in painting its portrait of the earnest,
often anti-intellectual culture of Evangelicalism. Instead, their
feel-good show teems with rigorous dance and movement, sincere
character study, and even wholesome Stephen Foster songs. —Christy DeSmith
8 p.m., McGuire Theater, Walker Art Center, 1750 Hennepin Ave., Minneapolis; 612-375-7600; $20 (members $16 & $14).
PERFORMANCE
The Force Is With You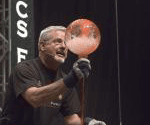 Fun equals…physics? For
all of you non-believers out there, here is a show that is out to prove
that physics is not the stuff of long lectures and tedious equations,
but the stuff of zip and pizzazz! Physics Force, an entertaining
physics demonstration team from the University of Minnesota, will perform
their annual Physics Circus today in Northrop Auditorium. This
is a unique opportunity for people of all ages to learn a little more
about the face-paced world of physics and to be entertained at the same
time. Be sure to get there early because tickets are free and
there's a high probability that this show is going to generate some
electricity! —Kate Leibfried
7 p.m., Northrop Auditorium, 84 Church St. S.E., Minneapolis; 612-624-2345;
free.
SPECIAL EVENT
Jazz, Art, and Wine

Join us for Gallery Grooves, The Rake's monthly art, jazz, and
wine event. Socialize and discuss the latest jazz with Kevin Barnes
from KBEM, view artwork for sale, and enjoy wine info and sampling courtesy of The Wine Company. This
month, view illustrative paintings by Joel Barkley at the Minneapolis
School of Flower Design. Barkley's collection of artworks, both fantasy
and realism, represent a sampling of his imagination. —Jennifer Havrish
7 p.m., Minneapolis School of Flower Design, 79 13th Ave. N.E., Minneapolis; 877-322-5666.
MUSIC
Old School Freight Train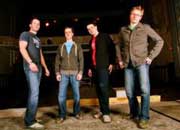 Acoustic music is undergoing a revitalization.
Look out! It's a bird. It's a… train? Well, sort of. Old School Freight Train is the name of an up-and-coming acoustic band
that is playing at the Cedar tonight. The band
combines thought-provoking lyrics with captivating melodies, soulful
vocals, virtuosi instrumentals, and imaginative arrangements. Blending
folk, jazz, soul, pop, bluegrass, Latin, and Celtic, Old School Freight
Train offers a unique musical experience. Just like the locomotive
in the 19th century, Old School Freight Train is being called
the "next big thing," and it would be a shame to miss this exceptional
musical performance. —Kate Leibfried
7:30, The Cedar Cultural Center, 416 Cedar Ave. S., Minneapolis; 612-388-2674; $17.