SPECIAL EVENT
Celebrate Theater All Year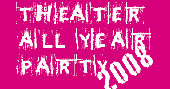 If you only do one thing this weekend, join us for a fabulous celebration of Theater All Year. Start the evening off by kicking back a few Newcastles and sampling the natural and organic victuals of Whole Foods. And then stick around for a presentation by The Lighthouse Group. An artist of the year, an Ivey Award honoree, a Mentor Award winner,
two dancers, and a director will come together to present a clown act,
a dance, and a new drama for the audience. The evening promises to be a hoot.
(Want the celebration to last year round? Treat yourself or a friend to a 6-voucher Theater All Year
package, and check out the available performances.)
Sunday at 5:30 (reception) and 7 p.m. (performance), Illusion Theater, 528 Hennepin Ave., Suite 704, Minneapolis; 612-339-4944; reception free, performance $12 (to reserve
tickets, call Illusion Theater and use
the codeword PARTY).
FILM
Cloverfield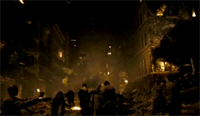 It looks like producer J. J. Abrams (the man behind Lost and Alias) took a few cues from legendary horror-meister Val Lewton. In Cloverfield,
Abrams's Godzilla-like monster wreaks havoc on New York City—except he
does so at night, and we can't see a damn thing except shadows and
fleeting images of the beast as things blow apart, casting flickers of
light on the carnage. Abrams understands, as did Lewton when he made The Curse of the Cat People
some sixty-five years earlier, that imagination is the best special
effect—and it's cheap. The web is already alive with anticipation for
this one. If the trailer is any indication of Cloverfield's thrill-a-minute qualities, this should be one helluva popcorn flick. —Peter Schilling
Area theaters.

Walk into the Sea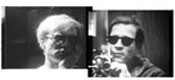 Be
a part of the unveiling of a story that up until now has remained untold.
A Walk Into the Sea is a bittersweet tale about the brief but brilliant
life of Danny Williams, a man who was defined by his stunning work as
a filmmaker in collaboration with the Warhol Factory. Williams
made more than twenty films and designed light shows for the Velvet
Underground, but his relationship with Warhol ran much deeper than that. Now his poetic life story is finally being told by his niece, filmmaker
and director Esther B. Robinson. Robinson offers a glimpse into the
life and works of Danny Williams, but if her documentary makes you crave
more, then be sure to also explore Danny Williams' Factory Films,
a compilation of the films Williams produced while working under the
Warhol Factory. —Kate Leibfried
Friday and Saturday at 7:30 p.m., Saturday and Sunday at 2 p.m., Walker Art Center, 1750 Hennepin Ave., Minneapolis; 612-375-7600; $8 (members $6).
ART
Closing this Weekend: Michael Kareken's Urban Forest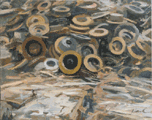 Scrap yards and paper recycling form Michael Kareken's usual
subjects (though he has other, more conventional ones as well—figures,
usually); many of the works in this show depict the Rock-Tenn recycling
yard near his studio. Tough-love limnings of crushed heaps evoke the
huge stone Aphrodite that stood at the old Getty Museum on the Malibu
cliffs, her voluminous draperies blown by a hurricane and torn and
broken by two thousand years. The formal visual qualities of these raw
heaps is exciting in itself, but Kareken also manages to infuse the
drawings and paintings with the pathos of drapery—material that takes
on the shape of that which it clothes, be it divine flesh, the force of
tearing winds, or the mindless crush of waste. These scraps record the
currents of our desires. —Ann Klefstad
Friday 12-5 p.m. and Saturday 12-4 p.m., Groveland Gallery, 25 Groveland Terrace, Minneapolis; 612-377-7800.

Opening this weekend: Dan Havel's Open 24 Hours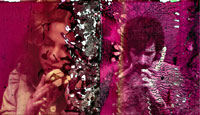 Dan Havel's latest installation has been brewing for 14 years. Two years after leaving Minnesota for Houston, Texas, in 1991, Havel was working on a site-specific installation at an abandoned adult movie theater where he came across numerous old film reels. Over the past year, he has revisited these reels, pulling together a series of digital prints from the water-damaged '70s porn films. The result is a fascinating fusion of decay and kitsch. "The colorful surfaces are cracked and scratched, with fractals of pooled emulsion intertwining and framing the various figures, stories, and locations in the films." Certainly not something you see every day, you won't want to miss this.
Saturday from 8 p.m. to Midnight, Icebox Gallery,1500 Jackson St. N.E., #442 & #443, Minneapolis; 612-788-1790.
MUSIC
Something for Everyone
Lovers of the classics will delight in a perfect fusion of film and orchestra tonight (8 p.m.) at the Sounds of Cinema Festival, where the Minnesota Orchestra will accompany Chaplin's City Lights — one of the best films of all time.
Those looking for a some truly beautiful, indie-alt-folk vocal stylings should head to the Cedar tonight (8 p.m.) for the sweet, lulling songs of Haley Bonar and Pieta Brown. These sexy ladies are topped only by their fabulous voices and stellar song-writing.
Saturday is Janis Joplin's birthday, so if you're up for some old-school '60s rock, you should make your way to Mayslack's Bar (9:30 p.m.) for a birthday extravaganza featuring Happy Birthday Janis! Several featured performers will pay tribute to the legend, including Monica Heuser and Jill Mikelson from the Ordway's presentation of Love, Janis, and Andra Suchy and Kari Shaw from local country group The Dollys.
Also on Saturday, Aaron
Smith, Steve Tacheny, Tate Schoeberlein, and Chris Hansen of The Slack
invite you to "a magical night of music and tomfoolery" at the Terminal Bar (9 p.m.).
And on Sunday (4 p.m.), join gospel quintet The Steels in honoring Martin Luther King Jr. with a From Every Voice concert at Ted Mann Concert Hall.