The widely-discussed flamboyant personality of Irish playwright Oscar
Wilde (1854 – 1900) is such that many often forget that Wilde was
married and fathered two sons. It is his wife, the comparatively
uncovered Constance Wilde, that gets the spotlight in Thomas Kilroy's
The Secret Fall of Constance Wilde, which opened June 6 at the Guthrie
Theater's McGuire Proscenium Stage. Set in a turn-of-the-century
British train station version of Limbo, the play speculates on the
Wildes' relationship, with input from Oscar Wilde's lover,
Lord Alfred Douglas. Anchored by a mesmerizing and heartbreaking
performance by Sarah Agnew (from the Jungle Theater's The Syringa
Tree), the complex humanity at the base of the Wildes' marriage pulls
the piece through some peculiar theatrics and an unfortunate third
wheel in the cast.
The play covers Constance's marriage to Oscar Wilde in a disjointed,
stream-of-consciousness manner, starting with an imaginary final
meeting between the couple after Oscar's release from prison in 1897, and before Constance's death the following year. Every major incident in their
relationship is covered from Constance's perspective, from his
relationship with Douglas, to his trial and the unnerving revelations
that were made there. But to say the unfolding of events lies only with
Constance would be a gross misstatement. Rather than victimizing
Constance and turning Oscar into a villain-type, the play depicts the great poet just as terrified and confused as his wife.
Agnew crafts a brilliant portrayal of Constance, a woman being torn in
two by her own conflicting feelings and the injury that increasingly
pains her body and mind. Constantly driven to desperation by a need to
confess her deepest secrets, Constance is a strong force despite all
the turmoil she hides inside. And Agnew pours that agony out to the
audience with every pained step and every choked word. A picture of
grace under Victorian pressure, Agnew's Constance pushes herself to
determined bravery, proving to herself with each new turn exactly what
their marriage means and what purpose Oscar serves in her life. Her
quietly conflicted face, always a moment away from tears, never betrays
itself and glues the entire audience to her whenever visible.
As the famous poet, Matthew Greer casts a very different light on the
common conception of Oscar Wilde. All the sharp-tongued wit is there,
but in a series of increasingly delirious monologues, the more serious
side of Wilde's personality is revealed — dark, confused and barely able
to comprehend the forces surrounding against him. At the close of act
one, when Wilde is cast into prison, all of his underlying fears are
terrifyingly ripped into reality. In these moments, the violent and
nightmarish conditions are vividly brought to life by Greer alone.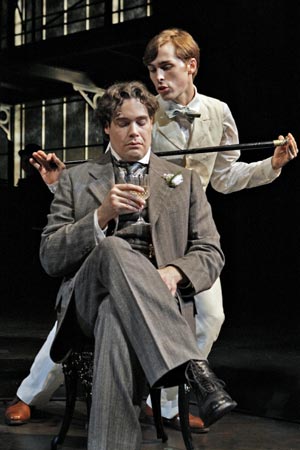 The only misstep in the cast is recent BFA graduate Brandon Weinbrenner
as Lord Alfred Douglas — affectionately called "Bosie." Weinbrenner
seems to have believed that it was up to him to provide the comic
relief in the show, but when one of the lead characters is Oscar Wilde,
no comedic foil is really required. He plays Douglas as the most
stereotypical homosexual British aristocrat around — with open-mouthed
shock, plenty of foot stamps and lots of whiny shouting. With two
such beautifully nuanced performances from Agnew and Greer,
Weinbrenner's subtlety-be-damned approach is even the more jarring. If
there were a villain of the piece, Douglas would certainly be it. But in
this case, anyone ignorant enough to be fooled by such a person for so
long probably deserves at least a little bit of the ridicule and
torment thrown his way.
All the other characters in the piece, from Wilde's jury, to passersby
on the street, to Constance's own children, are silent puppets and
objects manipulated by a quartet of androgynous puppeteers who not only
manipulate the surroundings but the three players themselves, trapping
every character into a certain mode of action. They serve as a greater
force exerting itself on the characters, whether they are fate
intervening or the strict rules of turn-of-the-century society.
Director Marcela Lorca stages the action as one large dance piece led
and manipulated by the puppeteer ensemble; a sensible choice, given her
extensive choreographic work. Several sequences are staged with an
almost filmic fluidity — a mixed effect to be sure. While slow-motion
movement can often be effective, here it seems present only to produce
a cinematic feeling.
But the bond between Constance and Oscar is undeniable, even with all
its contraptions and complexities. Agnew and Greer are at once repulsed
by each other and irresistibly drawn to each other, making every
interaction they share undeniably intense and impossible to look away
from. What would seem to be an unlikely marriage becomes a deep love
story about two people who could only find completeness in each other
and the secrets they kept all their lives.