Yesterday was my first visit of the season to the Mill City Farmers Market, and I was pleasantly surprised by how many new stands there were selling locally produced prepared foods – apparently Brenda Langton, who was one of the founders of the market, and who owns the Spoonriver Restaurant next door, doesn't mind the competition.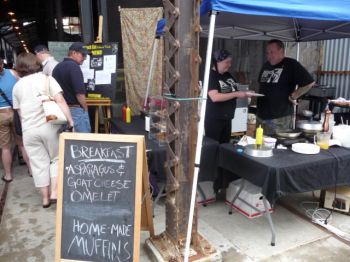 The Black Cat Natural Foods is back this year – yesterday's weekly specials included a goat cheese and asparagus omelet, and a pulled pork sandwich ($6; a bit dry, but not bad), made with slow roasted pork from their market neighbors, the Donner family, who operate the MN Valley Organics stand nearby. The Donners were selling their own sandwich, billed as a McDonner: egg, sausage and cheese on an English muffin ($5.25). *Insert joke about Donner Party here.*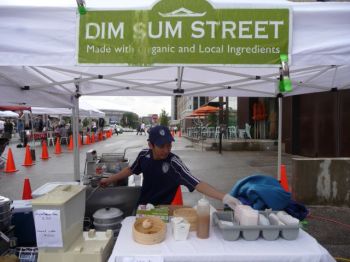 Among the new stands this year: Dim Sum Street, which offered a combo of steamed chicken bun and three small egg rolls for $5, and Mo:Mo, selling steamed Nepali/Thai dumplings, stuffed with chicken (from the market) or vegetables, topped with a tomato ginger chutney. The veggie dumplings (stuffed with onions, tomato, cabbage, chives, ginger and garlic) kind of fell apart when we ate them, but they were quite tasty.
If I had more room, I would have also sampled the wares at the Chef Shack food truck, where the menu included Thousand Hills beef hot dogs, beef tongue tacos and bison burgers.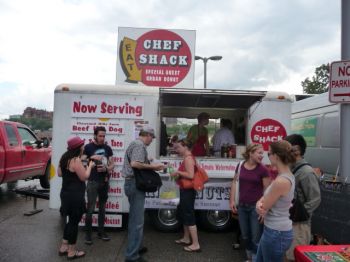 Under the market shed, there were several more options, including the Queen of Tarts, selling sweet and savory tarts, Edna's Caramels, and Shepherd's Way, offering nibbles of their farmstead cheeses.
The Mill City Farmers Market, at 2nd St. and Chicago Ave. on the downtown Minneapolis riverfront, (between the Mill City Museum and the new Guthrie Theater), is open Saturdays from 8 a.m. to 1 p.m. through October 18.