I'm not easily moved — not
by people anyhow, not by masses, that is. I was certainly moved by
Brendel's performance at Orchestra Hall a few months ago. And now, now
I am moved. This time by people coming together. How sappy that sounds.
How cynical I am.
The Xcel is engulfed in bodies, live
beautiful bodies, bodies of all ages, though I see few elderly folks
(it's harder and harder to leave the home), bodies in all tones, shades, and
shapes, all styles, all types. Bodies everywhere.
Something is happening here. That's the overwhelming feeling. Something is happening. And I'm overwhelmed.
A young blonde girl peruses a panel of Obama buttons held by an eager red-faced man in his early 40s perhaps.
Three Somali women sit cross-legged on the grass behind her, next to six or seven teenagers sprawled across the cement.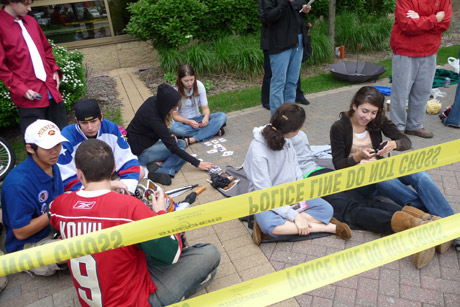 Something is happening and no one seems to want to miss it. They all seem to know.
I
get the feeling if it starts to rain these people will build a tent
together. Perfect item for the 5-o'clock news. (We still have 5-o'clock
news.)
I'm a hopeless (helpless)
romantic; it's true. I live for this shit, but I don't really believe
in it. I'm skeptical, of course. I'm always disappointed. Something is
happening, but is it? Should I be concerned that so many people think
something is happening, when in fact, it's not that big. It's not that
huge. Are we so easily impressed?
No. We're that desperate. And
that's OK. You have to start somewhere. And if this many people think
something is happening, then, by Jove, something is happening.
That's something.

More later… I'll continue posting as the evening progresses.