"Don't you find," he said, "that there's a funny taste of
chicken coops in Rhone wines? Especially Beaucastel."
"Chicken coops?" Was he pulling my leg?
"Even the great wines, you know, have a whiff of chicken
coops. It's well known."
I offered him a glass of the Beaucastel. I tasted it
again, now frantically looking for traces of sublimated chicken coops. The
waiter winked at me, was he suggesting I'd been had?
"Taste it?" he said. "A bit poopy, eh?
"Well, I said, "maybe I can taste chicken coops."
I couldn't taste anything of the sort. But we swirled and
sipped and agreed that the chicken-coop element gave the wine its complexity."
Lawrence Osborne, The Accidental Connoisseur, North Point Press, 2004.
Whenever I read those florid descriptions of wines – "a
direct and seductive nose overflowing with floral notes, gingerbread, cocoa,
candied cherries, a mouth which is spherical, sexy, fleshy – , in wine
reviews or on those little tags at the wine store, I have two reactions:
1)
I wish I could write like that.
2)
Are these guys just making that stuff up?
I'll admit it, I'm no expert on wines. I know what I like –
big, full-bodied reds, mostly – but unlike my esteemed colleague Ann Bauer, I
don't have much of a vocabulary to talk about it. And I can appreciate the
difference between a $10 bottle of Cabernet and a $50 bottle, but I usually
don't think the difference in experience is worth paying for – at least if I am
paying. And when I see a $50 price tag on a bottle of wine, I also start
thinking about people who don't earn $50 a month.
My wine career has been a never-ending search for cheap
drinkable plonk. In the 80s and 90s, it was focused on the wines of Romania,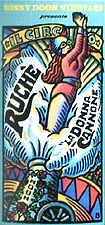 Bulgaria and the former Yugoslavia – remember Avia and Premiat? , These days it
has shifted mostly to Spain, and the garnachas and tempranillos and monastrells
in the back left corner of Hennepin-Lake Liquors.
Every once in a while, though, a cheap wine jumps out at me
as something out of the ordinary. I first discovered
Bonny Doon 2003 "Il Circo" Ruche
di Castagnole Monferrato on a wine list at Taste Wine
Bar (that quirky little spot hidden inside The Newsroom), and liked it so much
that I started looking for it, with no luck, at local bottle shops. Then, last
week, I stopped in at Gigi's for their happy hour, and lo and behold, the
featured $3 happy hour red is Il Circo Ruche.
I happily drink a
glass and a half, and return the next night for Gigi's Thursday night cheap
date spaghetti special – two plates of spaghetti, garlic toast, and a bottle of
wine for $25. The spaghetti was great -the red sauce with spicy meatballs
robustly spicy (vegetarian also available), and the noodles actually al dente.
And sure enough, the red wine was Il Circo Ruche. This time
around, I tried to figure out just what it is that I like so much about the wine,
put it into words, but I got absolutely nowhere. I try out all
those words that wine writers use – blackberries, leather, hints of cinnamon
and passionfruit, but none of them seem to fit,. Mainly, it seems complex but
balanced, but that doesn't say very much.
The label on the
bottle said that ripe Ruche was redolent with roses, but I couldn't for the life of me smell anything
that tastes like roses. Complicating things further, Carol, who was sharing the
bottle with me, didn't taste anything special about this bottle at all. So I
cork up the last quarter of the bottle, and bring it the next day to Ann, who
really is good at describing wines. "Cherry and cassis with a touch of
dark honey;" Ann reported back the next day," a resinous flavor that becomes cigar-like as it warms; undertones
of earth, but very dark, no peat at all.
A dry, almost dusty finish. That
thing about roses? I didn't get it at
all — unless you count the dusty, earthy scent and flavor, which reminds me of
DECAYING roses."
A tip from a friend research led me to Robin Garr's
wineloverspage.com, where Robin Garr's posted his 2005 tasting notes on the
Bonny Doon Il Circo Ruche, "an Italian red grape so obscure that it's only
grown in a few small villages in the Castagnole Monferrato hills northeast of
Asti in Piemonte."
Wrote Garr: "This is a very dark purple wine with a bright
reddish-violet edge. Luscious aromas offer a benchmark example of Ruche with a
heady, rosy floral scent accented with warm brown spice. Rich and full in
flavor, tart red fruit and spice, mouth-filling and plushy on first impression,
but a firm core of acidity carries it into a clean, medium-long finish, with an
unusual, intriguing hint of caraway seed and light tannic bitterness
lingering."
So Robin Garr did discover the rosy floral scent in 2005,
but Ann and I couldn't detect it in 2008, That actually makes sense, since Garr
predicted that the floral scents would soon fade from the young wine.
Of course, there are lots of factors that influence how we experience the taste of wine, as this story from Bloomberg News illustrates:
"Volunteers in California who were given sips of wines with
fake prices said they preferred the cabernets they thought were
more expensive to the ones they thought were cheaper about 80
percent of the time, according to the study published … in the Proceedings of the National Academy of Sciences…. In a follow-up experiment eight weeks after the original
study, patients were given the wines to taste without any
suggested prices. Most chose the $5 wine as their favorite, (a researcher) said."