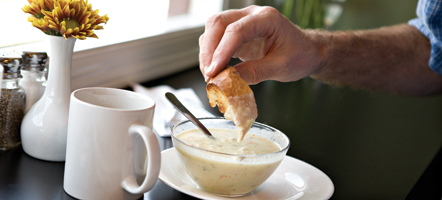 There is nothing wrong with talented chefs like J.P. Samuelson at jP American Bistro turning out dishes like roast chicken breast with fermented black bean sauce and mango salad and calling it American cuisine. And Doug Flicker has every right to offer duck breast with prune ravioli, asparagus, and portobello mushrooms at Mission American Kitchen. But if you want to taste American cooking the way it was B.C., you have to go to a diner.
B.C. means Before Child, as in Julia. She swept across the American landscape like a gastronomic tornado, starting in the early '60s, and almost completely wiped out a venerable dining tradition. Nowadays it's hard to find a menu that doesn't offer deep-fried calamari or seared ahi tuna with ginger wasabi dipping sauce, but you'll have to search far and wide to find a good old-fashioned chicken salad sandwich or Midwestern hotdish.
Though there are some things that good diners have always done well, like hash browns and pancakes, there is no need to get too nostalgic about this bygone era—the truth is, most American food B.C. wasn't very good. We were at the height of a convenience-foods craze when Julia burst on the scene, and the signature dish of the American diner in those days was a can of Campbell's chicken noodle soup. Now the best of the new generation of diners offers an expanded repertoire, often using local ingredients, as well as more imaginative preparations—all without losing sight of the core value of traditional diners: unfussy fare at reasonable prices.
You can break the contemporary American diner scene down into three basic categories: the true classics, like Mickey's Diner, the Band Box, Our Kitchen, and the Ideal Diner, which continue to serve exactly the same grub they did two generations ago; the updated diners, like the Modern Café, the Colossal Café, and the Town Talk Diner, where new owners have preserved the historic décor, but offer updated menus (as well as wine and beer, or even a full bar); and, finally, the new retro diners, like the Edina/Longfellow/Highland Grills, which pay homage to the diner tradition with menus that combine old and new.
The original diners were inspired by railroad dining cars, with a long counter and booth seating, but the concept, and the design, have evolved over the years. The early diners were America's first fast food restaurants, decades before the Golden Arches arrived on the scene in 1955. With limited seating and tiny kitchens, the short-order cook had to get the food out, well, in short order—and the customers, too. In the '80s, the Frogtown Diner in St. Paul captured the hurry-up attitude with the motto "Eat It, Then Beat It!"
If you stretch the definition of a diner a bit, you can include landmarks like Peter's Grill, which opened in 1914 and is the oldest restaurant still operating in Minneapolis. It has a long curved counter and plenty of booths, but a more extensive menu than the typical diner. Among its specialties are American classics that have largely disappeared, such as the Tuesday specials: a chicken patty with cream sauce and fresh peas, or grilled beef liver with bacon.
The ultimate classic diner is Mickey's in downtown St. Paul, built in a factory in New Jersey and shipped by rail to Minnesota. The first Mickey's Diner opened in 1939 and is listed on the National Register of Historic Places. (There are two other locations in St. Paul, although they have different owners.) You'll walk out of Mickey's smelling like a hamburger and French fries, but it's worth it—this is traditional diner cooking at its best. Their basic cheese omelet is almost as light and airy as a soufflé—maybe because they whip the eggs in a malt blender, and fry them up in what looks like about half a cup of butter. And the hash browns, fried on the griddle, combine crisp and tender in savory perfection.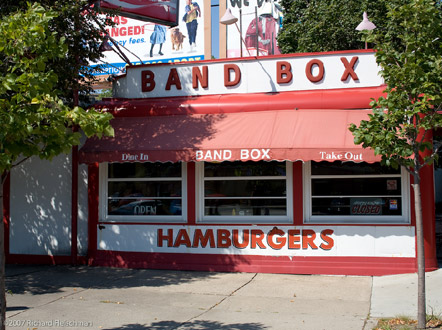 The Band Box opened that same year just outside downtown Minneapolis, and is enough of a neighborhood institution—and landmark—that its 2003 renovation was supported by Elliot Park neighborhood revitalization funds. It's got a classic red-and-white color scheme, a standard eggs-pancakes-and-sandwiches menu, and a friendly neighborhood vibe. Although the Band Box Diner's motto is "Turning Grease Into a Feast For Over 60 Years!" neither my juicy mushroom Swiss burger nor my side of fries was actually very greasy.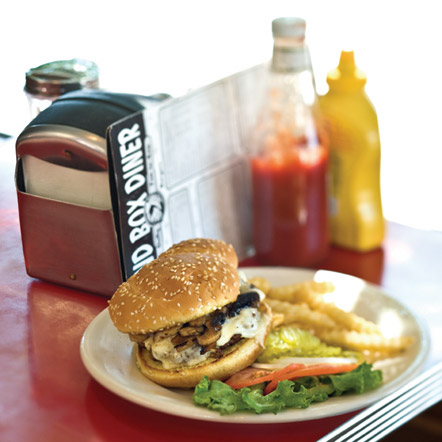 Something about the Ideal Diner brings Lake Wobegon to mind. It's a place that, to paraphrase Garrison Keillor, "time forgot and the decades cannot improve." That could almost be its motto, except it already has a better one: "Where Regular People Feel Special, and Special People Feel Regular." My deep-fried pork tenderloin sandwich was more regular than special, but the accompanying hash browns were terrific. And the daily special, billed as goulash, turned out to be classic Minnesota hotdish: elbow macaroni, ground beef, and tomato sauce, untainted by any detectable spice or seasoning.
Pages: 1 2