A smattering of bonjours and soft smiles accompanied the light, nervous energy that breezed through the Alliance Française this particular Monday morning. Huge croissants and berries lay untouched on the table as hosts and hostesses pinned tricolored nametags to their jackets and blouses. A few people wandered absently around the meeting room, grazing past the old upright piano against one brick wall, peering at French books aligned on bookshelves against each other, or craning their necks to inspect the ragged charm of the weathered cracks near the ceiling. "We are still waiting for our guest of honor," a tall woman with dark wavy hair whispered. Her nametag revealed her to be Peggy Linrud, the Alliance board president.
After another ten minutes of waiting, in which nobody dared to venture an inch toward the food, the anticipated guest of honor walked down the cramped hallway and into the room. The small group of people moved smoothly toward his tall frame, a flutter of grays and blacks and browns settling around him like a flock of birds. It seemed quite an understated welcome for the Ambassador of France: the smallness of the room, the lack of ostentatiousness, the presence of a mere two press figures. But perhaps that is what made it so very-well-French?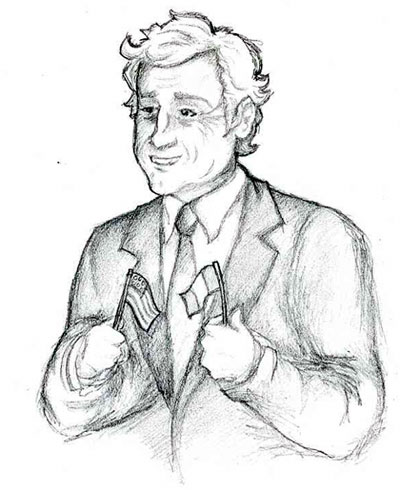 From this perspective, the Alliance Française seemed to be the natural stop for Monsieur Vimont. Although it is simply a small space tucked into the Warehouse District next to Theatre de la Jeune Lune, it is perhaps a dominant hub for the French community of Minneapolis. Native and nonnative speakers gather for language classes and cultural events. A few of the Alliance's French instructors were among those present at the intimate breakfast.
Monsieur Pierre Vimont has been traveling around the country since President Nicolas Sarkozy appointed him to the Ambassadorship last August. Refusing to stay cloistered in Washington, DC, he has been speaking at university and public functions, generally about Franco-American relations. "I try to get a little bit away from Washington…to get a complete picture of the country," Vimont smiled warmly, craning his neck and leaning inward, barely heard above the buzzing conversation around him. "I travel to visit the country, but also the French community, wherever it is. I meet the people. I also meet with the business community." He states that France's relationship with the United States is "improving" and that he is working to enhance it—especially the interaction of our economic policies.

Mayor R.T. Rybak, who escorted the Ambassador to the Alliance, chimed in more loudly in his agreement. "Minnesota has always had a strong connection to France," he declared. "French explorers were the first ones to come to Minnesota. Culturally, we have Theatre de la Jeune Lune." He gestured in a vaguely southward direction. "I like to think that Washington Avenue could be the Champs d'Elysées of Minneapolis."
The mayor's and ambassador's ensuing conversation, punctuated by the obligatory PR photos, was genial and optimistic, marked by comments about public transportation and sustainable initiatives, including the recent Northwest-Delta merger (NWA currently offers non-stop flights from the Twin Cities to Paris). Vimont nodded and smiled, his unflinching posture only broken by occasionally tapping the table with the tips of his fingernails—whether a nervous gesture or just plain habit, it was difficult to tell. Consul-general Alain Frécon beamed nearby, accepting congratulations for the French Legion of Honor he was about to receive that afternoon (for "exemplary service," Vimont explained). The other attendees gradually broke off, their glow of meeting a national figure a bit dimmed by now. They ventured toward the croissants.
One of the older women defied the otherwise muted garb of the bustle, smiling broadly through her bright, shimmery blue and fuschia makeup. She turned out to be Marie-Rose Adams, a language teacher at the Alliance. Sweeping two younger instructors to her, one in each arm, she declared, "She is a teacher. She is a teacher… and I am the grandma of them all." As they laughed and squirmed slightly, she wryly announced, "I started the school, if you wanted to know."
Adams proceeded to educate me about the history of the Alliance, then moved on to French food; with my croissant in hand, I made a faux pas by reaching for the butter and the marmalade. "Oh, non, non, that is not done in Paris," Adams yelped. She explained how much butter there already is in a true croissant. "But you Americans always have to have your butter!" Later on, I truthfully admitted to myself this might have been the most notable thing I learned about Franco-American relations that morning.
After lunch, I walked into my supervisor's office at my day occupation, who knew where I had been earlier that day. "Hey, I think I saw your ambassador on the street," he said.
"You did?" I was confused and mildly impressed. "How do you know what he looks like?"
My boss shrugged matter-of-factly. "He looked French."
Ah, Franco-American relations, indeed.