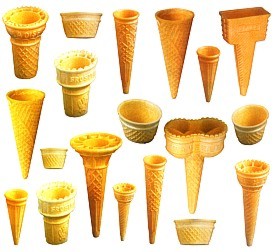 One of my kids looked over the ice cream machine, as it was loudly cranking away, and hesitantly asked what flavor I was making. The answer didn't please him and his reply was, "You never make normal ice cream anymore."
I have become a mad alchemist in search of the perfect formula.
Chefs all over have been doing funky things with ice cream for a while, but I can't abide lobster ice cream or cheese-steak sorbet. I'm all for savory elements, but they have to work with creamy sweetness. Emily Luchetti, pastry chef at Farallon in San Francisco, gets it. Her new book, A Passion for Ice Cream, is a beautiful beginning for the mad mad alchemist who needs to be pointed in the right direction.
Some of my successful ice cream flavors have been basil, pistachio cardamom, orange mint, cinnamon/cayenne chocolate, fig caramel, cucumber mint, and stout (Guinness). Non-winners have included zinfandel plum, cabernet black pepper, strawberry star anise, and wasabi peanut.
I can easily crank out a pint of vanilla or chocolate chocolate chip, which I probably should do more often for the sake of the family. But I can't help feeling like something's missing: garam masala, lavendar, salty caramel, something….
Stout Ice Cream
1 cup whole milk
1 cup hevy whipping cream
1 bottle stout beer (Guiness, Xingu, Oatmeal Stout)
1 tablespoon pure vanilla extract
6 egg yolks
1 cup sugar
Combine milk, cream, beer, and vanilla in a medium sauce pan, simmer over medium heat (do not let boil). In separate big bowl, mix egg yolks and sugar until you form a pale yellow paste.
When liquid mix is hot, pour little by little into the egg mixture while stirring constantly (we don't want to scramble the eggs.) Once both are combined, pour back into the sauce pan and return to medium heat.
Stirring constantly, watch for the custard to thicken slightly, coating the back of your spoon. Immediately remove from heat and pour into a clean bowl. Let it cool to room temp, then process in ice cream maker according to instructions.
Because of the alcohol, it will take longer to freeze. Plan to stick it in the freezer for a while after processing.