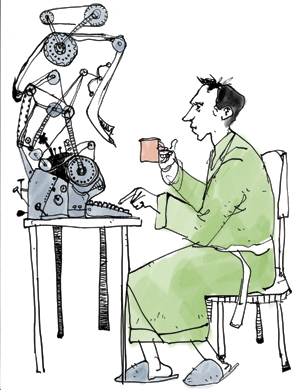 A whole new world
Historically, journalism has always been dependent on and shaped by whatever technology was available for gathering and disseminating information. During the Civil War, newspapers were finally able to send correspondents out into the battlefield. Why? Because of the telegraph. But this new tool didn't come cheap. The economics of that technology triggered the terse style of newspaper prose that is still familiar today.
Now, of course, it's the internet that is changing journalism—it's simply part of the evolutionary process. Gone are the days of the newsroom wire service. Breaking news is no longer reserved for a professional elite to digest, interpret, and disseminate for public consumption. If journalism is about gathering and disseminating information, the internet is an invaluable tool—it's a live wire service, with open access to the latest news, as long as someone is there to report it. And in an age of ubiquitous cell phones and laptops, someone is always there to report it.
Still, having better stories, and better models for creating stories, doesn't necessarily mean success on the internet. Despite everyone's quest for answers (and a host of people professing to have them, for a price), this realm remains unpredictable, enigmatic, and financially risky. Just as easily as a "right" website can tank, "wrong" ones can become hugely popular. The Daily Mole is dead (or at least on indefinite hiatus), and Kramer
was quick to point out that, despite its traditional approach, after only eleven weeks, MinnPost has an audience larger than those of the other local news sites mentioned here (a claim corroborated by the rankings in the information below).
On a local level, the trick seems to be in picking a niche. To a large extent, these exclusively online local news sources seem to be targeting, if not yet reaching, the same audience—which probably includes you, if you're still here: an educated reader who looks to multiple sources for news. Almost all the people behind these websites realize that their operation is not going to be your primary news source, but rather a supplemental one (and probably one of many). They're jockeying to earn your loyalty with some small yet very important detail that distinguishes them from their ostensible competitors: While MinnPost tries to revive a more traditional—and increasingly discarded—philosophy of high-quality journalism, MNSpeak aims to foster dialogue, and the Daily Planet to give voice to marginalized communities. Minnesota Monitor focuses its efforts on policy, politics, and the media; Cursor aggregates content with national appeal; and for its part, while it was active, The Daily Mole tried to deliver the news with irreverence—and a call for engagement.