FILM

Serenity

If you are a sci-fi nerd like me you'll definitely appreciate this. If you are a Joss Whedon fan (again, like me), you'll appreciate this even more. The 2007 cult classic based on one of my fave short-lived series, Firefly,
comes to the big screen at the Riverview for a special three-day stint
starting today (9:30pm), and continuing through Friday and Saturday (11:30pm both days). You needn't
have watched the series to get the gist of this flick; it's a dark yet
clear cut space adventure with old west/Mad Max flavor and lots of super-sweet special effects.
What got me hooked on the series in the first place, though, were the
characters. They had just the right amount of Whedon camp but were
lovable and tough at the same time. Anyhoo, I could go on for hours
about Whedon's Buffy the Vampire Slayer series alone (of which I own all seven seasons, btw), so you probably don't want to get me started.

In related news: this is one of THE best blogs in the Twin Cities; it blends sci-fi, fashion, and occasionally, drinking.
9:30pm, The Riverview, 3800 42nd Ave. S, Minneapolis, $7
THEATER

Beer, Brats, and the Bard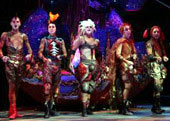 The Guthrie's modern and dazzling version of Shakespeare's A Midsummer Night's Dream will
come to a close this Sunday, so you better get in while the gettin's
good. This play weaves three stories of love, magic, and perception in
a
moonlit forest on a midsummer night; and it's a must-see for any fan of sparkly things.
Tonight is the perfect night to go; the Guthrie is offering a special
ticket price of $25, which not only gets you into the show, but also
entitles you to a pre-show party with free Brats and Beer on the patio
at Cue, from 5:30-7:30pm.



Call the Guthrie Box Office at 612-377-2224 and quote price code "AV" for the special deal.



5:30 pre-show party, 7:30 show, Guthrie Theater, 818 2nd Ave. S, Minneapolis, $25


DANCE
TU Dance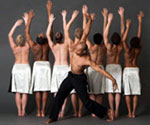 This local, critically acclaimed dance company
has been around since 2004, jumping, twirling, and contorting for
enraptured audiences far and wide. Tonight kicks off a run of eight
physically stupendous performances at the Southern Theater. Be the
first to see two world-premiere works by choreographer and co-founder Uri Sands
, as well as repertory favorites by this exhilarating modern dance
troupe. Runs Thursday-Sunday June 19th-22nd and June 26th-28th.

8pm, Southern Theater, 1420 Washington Ave. S., Minneapolis, $28