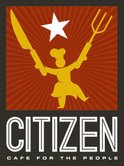 Thanks to everybody who responded to my call for citizen
reviews of the Citizen Café. The results are in, and the results are, well,
mixed. Some things you liked, some you didn't.
I'll save my own comments for last, but that also sums up my
own experience – I had a mediocre lunch, and a very satisfying dinner.
Keep in mind – as many of the critics did – that the Citizen
Café has only been open for three weeks – and is still going through its
shakedown cruise.
Is it fair to publish critical comments so early? Maybe not
in the Star Tribune, where the impact could be devastating, but in this little
ol' blog, I think it can be helpful – sort of a wake-up call, before Rick or
Kathie shows up.
What you liked:
"For my entree, I was pleased with a unique twist: a
Caesar salad with scallops," wrote Carrie Obry. "A bit of a Caesar addict, I
tend to rely on its distinctive taste as an indication of a restaurant's
ability to express itself. The scallops spoke to me like a perfectly fluffed
bed of pillows. I dove in and enjoyed the soft taste of lemon complemented by
the perfectly browned tops."
The rest of the salad didn't say Caesar to me much at all.
The less-than-memorable dressing settled into a pool at the bottom of the plate
and I had to work hard to reincorporate it. My friend also ordered a scallop
salad, but with roasted tomatoes, bacon, and homemade creamy dill dressing. We
both raved about the scallops and suspected that the restaurant was trying to
woo us with their generosity. We each had five or six of the big guys."
Jason Fritzel also liked his salad entree – roasted
vegetables on spinach with walnuts. The vegetables included were of the
root variety, a generous helping of carrots, parsnips, and rutabagas.
The veggies were nicely roasted … al dente, but a bit under seasoned, could
have used a bit more salt. This was quickly rectified with a quick dash
from the salt shaker. The spinach was very fresh, bright green, and
perfectly washed and dried. The walnuts were candied slightly and left a
taste of cayenne lingering on the palate."
Jason chose the warm bacon dressing on the side, which was a
"nice balance of sweet and picante with a few large chunks of bacon
included. It was indeed warm, was slightly on the thick side for my
taste, but did add nice flavor and balance to the salad, playing off the walnuts
very well. The portion was very generous for a dinner salad and sated a
moderate appetite."
He also had praise for his wife's BLT sandwich, "made with
brioche, thick house-made mayo, and one of the thickest portions of bacon I
have ever witnessed. The toasted brioche was divine, fresh, thick and
melt-in-your-mouth good. The thick mayo was portioned just right and the
bacon took some time to chew because of its thickness. The tomatoes were
fresh and romaine lettuce crisp and green. The only way to improve this
sandwich would be to add bibb lettuce instead of romaine."
Mary (no last name) gave a mixed but mostly positive
verdict: The gravlax was "delicious," she said, and served in "very generous portion,
but (with) only a few tiny toast points – I could easily have had twice as
many, but I can't complain, as the fish was wonderful."
A reader named Ann Bauer, (who says she is not "the Ann Bauer"), also praised the look of the place: "great-looking
interior and exterior makeover of what was the decor horror that was Sweet
Lorraines (although their food and service were great)."
What you didn't like:
The dinner rolls (reportedly homemade), and the pasta salad –
Carrie called the bread "absolutely lifeless," and Jason described it as "a bit
on the stale side." Jason described his wife's side of pasta salad: "penne that
was undercooked, under seasoned and overdressed with olive oil and hardly a
hint of vinegar," while Mary described it as "undercooked" and "Cub
Food-esque."
Ann found the food "odd." "Maybe I've
watched too much Top Chef, but it was almost like you wanted to ask the Chef if
he's tasted the things leaving the kitchen. For the first time ever, I
picked up a salt shaker in a restaurant. And this was to season French Onion
Soup! The rest of my party was underwhelmed with their offerings – soup,
salad, sandwich, burger, especially after the menu sounded exciting and
innovative, yet comforting. It's puzzling."
Fred Morris went for breakfast with his family, and was not
impressed with the food or service. "When the food came, it was not above
average. My scramble was rather pedestrian. The eggs were not
hot … they were barely warm. The hash browns also were cool. My
oldest son had the roasted veggies topped with an egg. The veggies were
drowned in olive oil. There was a pool of olive oil in the bottom of the
bowl. His egg was cool. The pork hash was not at all a hash.
It consisted of large cubes of pork mixed in with the other
ingredients … not a very good take off of beef hash. I've eaten breakfast
at Victors, the Grand Cafe, Hot Plate, Maude's, Hell's Kitchen, Sunnyside Up,
The Egg and I, Moose and Sadies, Birchwood, etc. and all were better."
Service also got mixed reviews.
"We sat for approximately 45 minutes before our food was
served," wrote Fred. "We had to ask
what had happened to our order before any explanation was given. The
owner's wife explained that it takes longer to prepare the food because it is
done 'from scratch.' She didn't apologize until I mentioned that it might
be a good idea to give customers a sense of the status of their order after
they have been sitting for a while."
Carrie Obry was critical, too: "The service, while pleasant,
was a little lacking. We didn't have water, bread, or a knife for our
bone-hugging appetizer until well after these items should have arrived."
Ann had a much better experience: "The waitstaff was "present" in that you never felt ignored or
dismissed, even though you could tell they were literally and figuratively
sweating. Everyone was patient and personable." And Jason found the service "friendly and attentive. The food took a little while to come up, but we
were not in a hurry and totally understand that this was day 2 for the young Citizen."
As for my experience – on a lunchtime visit, service was extremely slow, and the food was uneven – the rolls were dry and flavorless, and the sandwich billed as corned beef didn't look or taste like corned beef – it was just dry, brown meat. I appreciated the effort that went into making homemade sausage, but the pork sausage was much too lean and dry.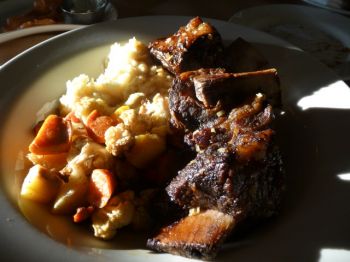 On a dinner visit, we had a much better experience – service was prompt and attentive, and the food was very good to excellent, mostly. The house-made gravlax ($4) was delicious, and served in very generous portion, considering the price. The pickled veggies weren't as tart as I would have liked, but still quite tasty.
The entrees were a big hit – Carol's entree of shrimp and scallops was delightful – the scallops were sweet and succulent, and Carol marveled that the Cafe could serve three jumbo scallops and four large, tasty shrimp for such a reasonable price – $17. My portion of beef short-ribs ($17) was equally generous and satisfying – done to just the point where the meat is juicy and flavorful and tender, but not yet stringy. And the mashed potatoes and roasted root vegetables were the perfect accompaniments.
I think the place has a lot of potential – this is very
solid American cooking, unpretentious and reasonably priced. Service
needs a little work, and better bread should be a priority. I will be
eager to go back in August, after they have gotten their wine and beer
license.